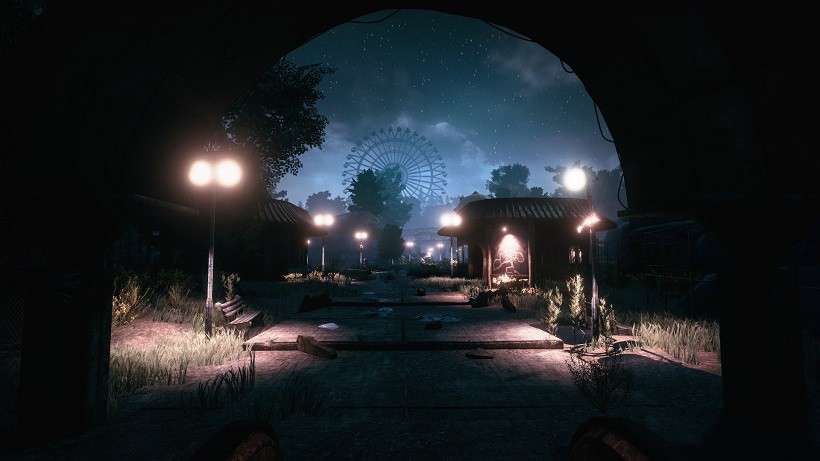 I've been keeping an eye on The Park, not because I'm a huge fan of horror games (not at all actually), but because I'm quite fond of narrative focused titles, and according to the developers, that is exactly what their game is going to be. They also stated that the Park will be available at some point during October. Being a scare title, many thought it would fall on the obvious date, October the 31st – Halloween. It's coming a tad earlier than that…
Four days earlier to be exact, on October the 27th. Details for The Park have now popped up over on Steam (via PC Gamer):
A day at the park… a lost teddy bear… a missing child. As the sun sets over Atlantic Island Park, you must explore its dilapidated rides in search of your son, Callum. As darkness falls, you will experience panic and paranoia through a narrative written by a team of award winning storytellers.
It'll be selling at the pre-purchase price of $9.99 for the next week and a bit. It's a measly price, but keep in mind that the game will only take around an hour or two to finish.
If you're interested in venturing into that horrid amusement area, you can look forward to experiencing the following:
Explore Atlantic Island Park and step onto rides such as the Ferris Wheel, the Bumper Cars and the Rollercoaster; just beware, some of them have a life of their own
Enter the mind of Lorraine, a woman facing every parent's worst nightmare, and unravel her story as well as the dark and tragic history of the park
Call out for Callum to respond, and interact with the environment around you while examining clues and listening to Lorraine's own inner voice as the game progresses
State of the art graphics and audio deliver a uniquely atmospheric setting rich in mood and mystery, developed by a team of award-winning AAA developers
WARNING: This experience deals with subject matter that might prove emotionally distressing to some. Player discretion is advised.
Well, great… look at that warning. An emotionally distressing game? I already know that many of you will be clamouring for me to play it in the comments below. I thought we were friends, and friends don't make their friends explore horror-filled parks dammit!
Last Updated: October 15, 2015