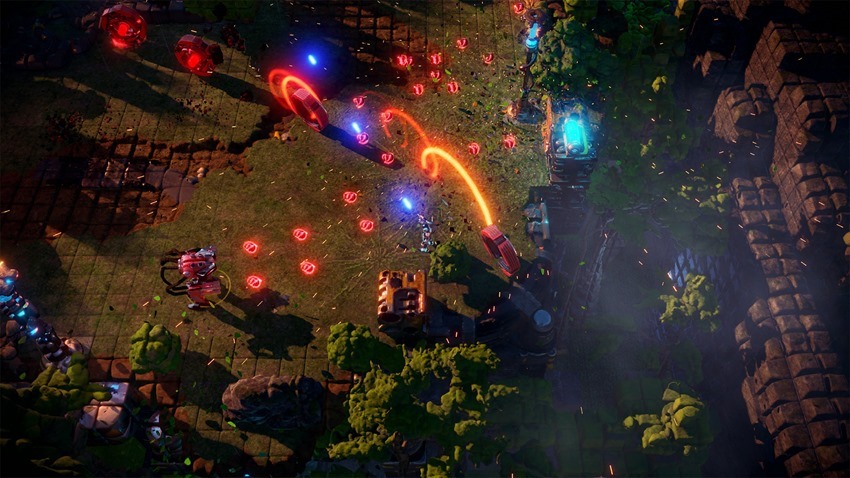 If there's one genre that Finnish developer Housemarque is known for, it's twin-stick shooters. For good reason, too. They're master of the craft, having made some of the very best games in the genre, many of which stand as some of my favourite games ever. Games like PlayStation 4 launch title Resogun, Alienation, and their twin-stick bit of arcade mastery, Nex Machina.
In my own review for Nex Machina, I said it was arcade perfection.
"Where Resogun may have been a spiritual successor to Defender in many ways, Nex Machina finds its roots in games like Smash TV and Robotron. Nex Machina is the sort of game that Housemarque does best. Accessible, hopelessly addictive arcade gaming. And they've nailed it – again."
Unfortunately, it's probably the last game of its kind from the company. They're leaving the genre that made them (and, in many ways, that they made their own) behind.
"It's bittersweet at this moment," says Ilari Kuittinen, the CEO and co-founder of Housemarque. "The era, the ten-plus years that we've been mostly working on smaller, downloadable, arcade-inspired console games has come to an end."
The unfortunate reality of it all is that their games just aren't selling like they used to, despite still being critical darlings.
"We know from those numbers that quite a lot of people have played those games, but I think it's more that they don't want to pay for them. They expect to get them for free," says Kuittinen. "Actually, Super Stardust HD sold more for PlayStation 3 [ten years ago], when it had a fraction of the owners that PlayStation 4 has now with Nex. So maybe those people have just moved on. They are not active in the market any more.

"The core thing is that there's no paying audience for games like this. Or we can't reach them, and I don't know how those people can be reached if they haven't heard about our games [already]." 
It means new things ahead for Housemarque, in areas that they've perhaps not really explored as they continued to make excellent Twin stick shooters. It also means new service models that don't rely on uber-polished, finished products.
"That also leads us to another kind of model: games as a service, and getting more in touch with the community, before the game is even half-finished," says Kuittinen. "It's totally the opposite of what we have been doing. It's quite exciting, and scary at the same time."
If there's one thing you can expect though, it's that their future games will be built to the same principles – fun gameplay.
"That core gameplay will still come through. The core will always be there."
Read the whole interview at Gamesindustry.biz
Last Updated: November 1, 2017