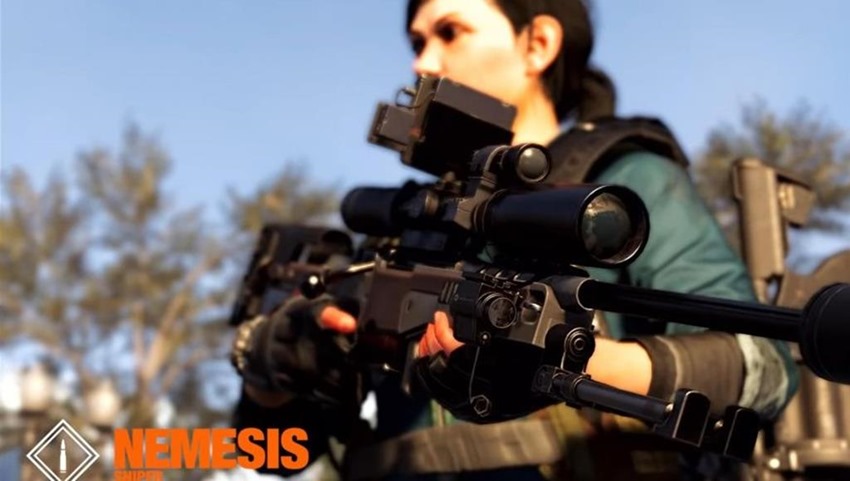 Chances are that you're going to find yourself on the receiving end of a lot of punishment in The Division 2. Bullets are bastards like that. But what if you could finish a fight before it even started? That's what sniper rifles are for in the game, as there ain't nothing like a well-placed shot from miles away. There's no shortage of these wonderful marksman rifles within Washington, with the majority of them boasting that utterly satisfying click-clack of a bullet loaded into a chamber and the resulting ejection of the cylinder that just barfed hot death into somebody's skull.
So which is the best gun for headshots in The Division 2? If you're a connoisseur of long-distance bullet trajectories, then the Nemesis is probably high on your agenda. Here's what it brings to the sniper nest:
Erm…wait hang on. See here's the catch. Obtaining the Nemesis requires doing some time-gated activities, as the gun is technically available in The Division 2 but also kind of not. Here's how the quest line works: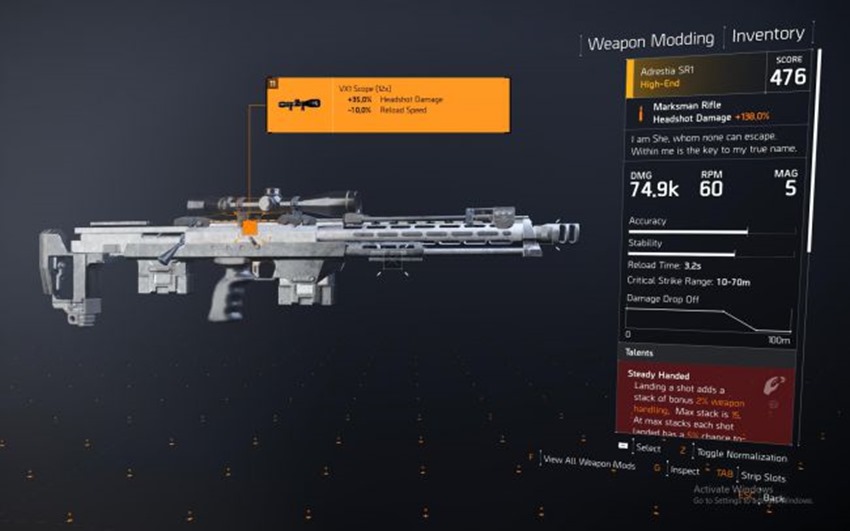 Your game needs to have reached World Tier 5, which can be done by completing the Tidal Basin stronghold
You'll need to clear three of the new Invaded Missions, which will then unlock the Capitol Basin stronghold
Complete that stronghold, replay the Tidal Basin stronghold at any difficulty level, up to the point where Manny Ortega tasks you with patching ISAC into a laptop
Go upstairs to the room filled with bunkbeds to find the Black Tusk keycard needed for this step
Once you reach the hovercraft cargo bay, fight through and take a left instead of a right turn to head through a door
Open the locked door with the Black Tusk keycard
Inside the room is a weapons crate with the Adrestia SR-1 high-end marksman rifle
You'll need to dismantle this (sob) so that you can grab the Marksman Rifle: Scope – The Tally component
Next, you'll need to kill three people so that you can get the Klutz, Shorty, and Prime components
Each of these components can be found on a Black Tusk boss
Which means playing the Capitol Building Stronghold again so that you can tangle with Prime, who'll drop the Marksman Rifle: Barrel – The Scourge component
To grab the Marksman Rifle: Bolt component, you'll need to defeat Shorty in the Roosevelt Island stronghold.
As for Klutz, he can be found the invaded District Union Arena stronghold and he'll drop the the Marksman Rifle: Stock – The Bridle component on his death
Here's the catch: These strongholds will only unlock in the days that are still to come, with invaded strongholds being on a rotation
And there you go! That's how you can get the Nemesis marksman rifle in The Division 2…eventually.
Last Updated: April 10, 2019