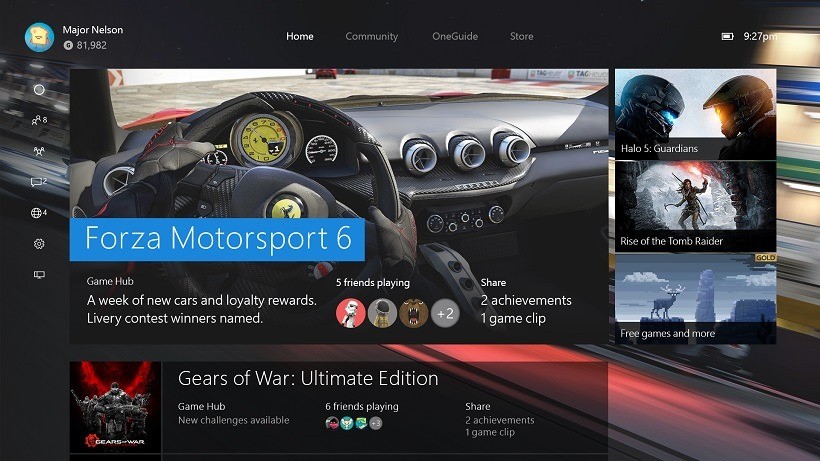 Rejoice! Microsoft is finally rolling out the much-anticipated New Xbox One Experience – a complete overhaul to the current, Windows 8 powered Xbox One UI that is finally being replaced with a cleaner, faster, and more intuitive Windows 10 solution. The update began rolling out earlier today, but if you still haven't managed to get the download going here's a few things you can try.
Firstly, the download itself isn't terribly big. The whole update rings in at around 1,2GB, which is larger than the interim 250MB updates that preview members are used to. That's because the update is bringing together a host of fixes that regular Xbox One users haven't received yet, but even then it's not an obscene download size for a complete UI rework.
If your Xbox One is currently in Instant-On power mode, the update should be downloaded automatically. Since it's a global rollout, starting at 10:00 today, the exact time of this is a little uncertain, so if you're not in front of your console right now it might not update by the time you're home. That's the same for any console not in Instant-On mode – which blocks any automatic downloads entirely.
If you're impatient, you can force the update by navigating to Settings, then System and then simply manually check for an update. It will see the New Xbox One Experience and begin the download, which is surprisingly fast for its file size. The standard console restart will then take place and boom, you're running the next generation of Xbox One software that should finally fix everything wrong with the old Metro-inspired UI. Especially its crawling navigation speed.
If you're still unsure of all the features the update is bringing to your console, check out the overview below courtesy of Major Nelson. And let us know how the New Xbox One Experience is working out for you.
Last Updated: November 12, 2015