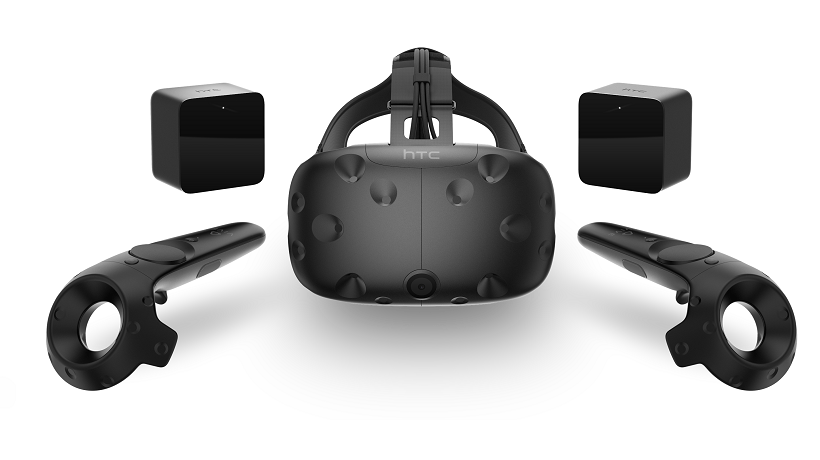 Virtual Reality is meant to boom this year, but at the rate things are going it's only deep-pocketed enthusiasts and those who have to have things first who are going to be driving it forward. Earlier this year Oculus revealed the Rift's price to be a staggering $599, and at MWC last night Valve and HTC showed their hand. Unsurprisingly, the Vive is even more expensive.
The HTC Vive comes with a lot more, but will ask for just as much in return. The unveiled consumer version that was shown off in Barcelona will retail for $799, with pre-orders opening on February 29th and shipping starting in April later this year.
So just what comes in the box? Unlike Oculus, HTC will ship the Vive with their own version of motion controllers, as well as the two room scanning cameras that you'll need to map out the space around you so you don't walk into a wall. This is on top of the Vive itself, which features a front-facing camera that allows you to switch between virtual and real-world views. Something not present on the Oculus Rift.
So more than worth the $200 addition on the price I think.
In terms of requirements the Vive asks around he same as the Rift, meaning you'll need a beefy PC to back up your new and shiny purchase. The Vive itself is a little different to the Rift in that it works with actual space rather than being a VR headset that you sit in a chair with. I preferred it when I got some time with the Vive at Gamescom last year, and I'm please that both Job Simulator and Fantastic Contraption will come bundled with the Vive at launch (the latter being a title from acclaimed indie studio Northway Games).
But it's just another example of how VR itself won't be making the break into mainstream market space this year, or probably the foreseeable future. VR requires expensive hardware, and I'm very curious to see how the last runner in the race, Sony, deals with the PlayStation VR headset. With the Rift and Vive setting the bar so high, it's hard to see Sony undercutting them too drastically.
Last Updated: February 22, 2016