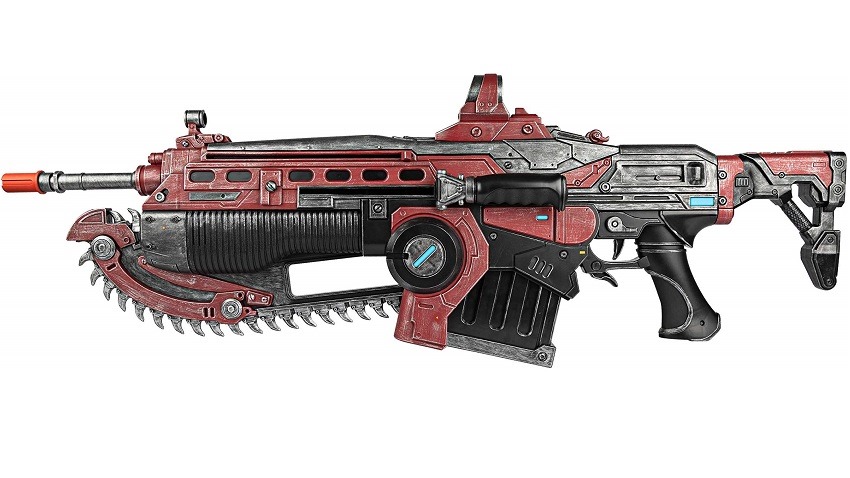 Gears of War is a video game franchise defined by certain visual ideas. A planet lush with nature and danger. Impossibly muscular soldiers with biceps so massive that they're unable to life a can of coke to their faces. And of course, the Lancer. The signature weapon of COG forces, the Lancer is what happens when you MacGuyver a chainsaw onto an assault rifle and let it run loose.
It's one of the best weapons in video games, an unholy combination of close quarters combat and marksmanship, a device so deadly that it cannot possibly exist in real life because it's just too awesome. The toy version though? That's another story. With Gears 5 out later this year, it's time to dip into the merch bin, as Amazon has a replica of the dreaded Lancer up for sale. Only this one happens to be sporting a trendy crimson finish:
Includes a DLC code for a matching in-game weapon skin that turns your Lancer into the Crimson Lancer MK3
Hinged chamber for simulated placement of ammo cartridges
Light and sound effects that can be seen and heard from the actual Lancer in Gears 5
Adjustable levers, triggers and switches
Officially licensed by Microsoft Studios/The Coalition
I NEED IT! It'll cost you $150 and most likely just as much cash for the shipping, but hot damn imagine owning one of these. Imagine many years from now, a suitor comes knocking on your door, ready to take your daughter out on a date. You're standing there, the prospective beau is sitting across from you and sweating nervously while your darling child gets ready to go out.
You're next to the fireplace, menacingly stroking the Lancer that sits atop the mantle while you take a few puffs of your pipe, exhaling a stream of bubbles while you quizz this hotshot kid on of he's good enough to date your daughter. I'm just saying, it's a perfectly reasonable scenario with which to justify owning a replica Lancer.
It'll be out on September 6, which is just enough time for you to lug it down to game shop and use the device to clobber your way through a line of Gears 5 fans on September 10. This stuff pays for itself yo.
Last Updated: June 12, 2019