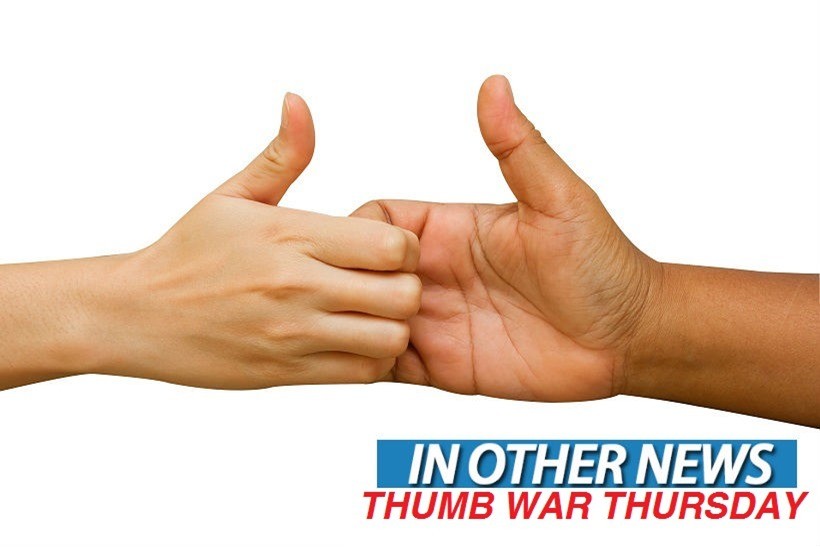 One two three four I declare a thumb war! Sheesh, remember this game? I always lost… ALWAYS, but mainly because my brother is a lot older than me, and thus, had a much larger thumb. I think a rematch is in order, now that we are both mature adults. COME AT ME BRO!
In Other News: Hideo Kojima sneaks out, Dishonored 2 gets dissected, Goku beats everybody in Street Fighter II, and you never asked for those games to be so cheap!
Here's all the news we didn't post because we were too busy taking a crash course on audio systems and their millions of confusing connections. Wait, that was just me!
News
Hideo Kojima Sneaks Out, Signs Autographs
Undead Labs' early access Moonrise is cancelled
World Of Warships Leaves Open Beta And Enters Full Release This Month
Here's the Dishonored 2 reveal trailer dissected by an Arkane dev
Stuff
Goku Kicking Everybody's Ass in Street Fighter II
Sanitarium is a game that might help treat Tuberculosis in the real world
Watch Big Boss Get A Birthday Surprise In MGS V: The Phantom Pain
You can get all Deus Ex games for under $7 right now
Videos
All The Coolest Movie Characters Hang Out On Coruscant From Star Wars
Dota 2 Fails of the Week – Ep. 137
Game Theory: Why FNAF Will Never End
What's on @ The Movies?
Eddie Redmayne is THE DANISH GIRL in this first trailer for the early Oscar contender
THE FRANKENSTEIN CODE gets a new title and trailer
Nicklelodeon may be looking to revive your favourite childhood cartoons
New images for THE ANGRY BIRDS MOVIE
WE REVIEW SOUTHPAW
MARVEL STUDIOS undergoes restructuring with potentially huge ramifications
Model: Thumb Wars
(Header)
Last Updated: September 3, 2015