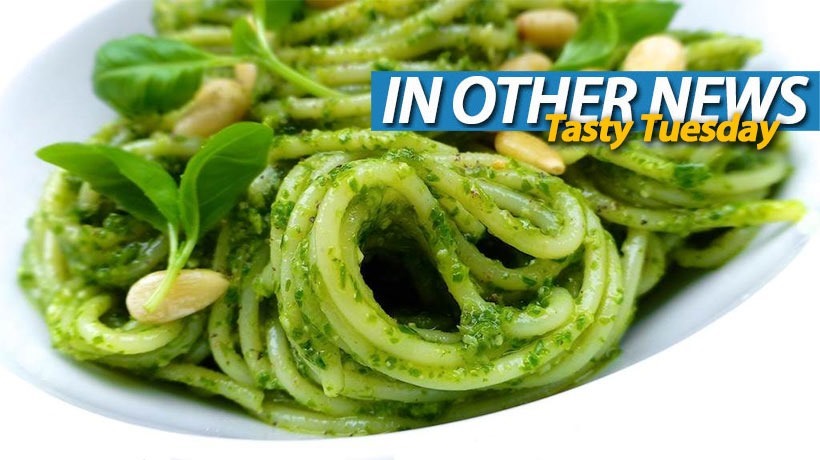 It's one of my very favourite things on earth. It's one of the simplest of pasta sauces, though it can honestly be put on anything. It's light, it's beyond delicious, and it should be in my mouth, right now. Traditionally made from basil, crushed garlic, pine nuts and Parmigiano-Reggiano or Pecorino blended with olive oil, it's mind-bogglingly divine on a good linguine or trofie, an odd, hand-twisted pasta favoured in the birthplace of pesto, Genoa.
I've had the good fortune to have pesto in Genoa, where they take the stuff very seriously indeed, and have a habit of putting it on just about everything.
In Other News: New Biomes for Dino Rider 2015, Project Spark fails to spark interest and goes free to play, Elite's got some dangerous multiplayer ships coming and get Mordor for less dosh.
Here's the news we didn't post because we were swearing at the millionth person to share that picture of a glass of water on a Mars bar with us.
News
Destiny weekly reset for September 29 – Court of Oryx, Nightfall, Prison of Elders changes detailed
Ark: Survival Evolved is getting two new biomes today
Dying Light, Shadow of Mordor on the cheap via Deals with Gold
Multiplayer ships coming to Elite: Dangerous next year
Red Dead Redemption for PC was never on the cards, developer says
Here's the first glimpse of Yakuza 6
Project Spark is dropping microtransactions
Final Fantasy V's PC release looks a bit crap
Stuff
The best and worst advice that video games can give
PS1 at 20: The making of WipEout
Players still haven't figured out all of Undertale's secrets
What's it like to play Rainbow Six: Siege alone?
Videos
Unreal Engine 4 – Bullet Train VR Demo by Epic Games
Fallout 4 S.P.E.C.I.A.L. Video Series – Endurance Trailer
Halo 5 – Blue Team Opening Cinematic Trailer
What's on at The Movies
Between fiction and reality, is this trailer for DAFT PUNK UNCHAINED
Mark Millar says FANTASTIC FOUR was "a shame" and sequel is still "open to discussion"
This new trailer for THE ASSASSIN will cut you down expertly
We've tested SHOWMAX for the last month, and here's what we thought of it!
Steven Soderbergh making a "Choose Your Own Adventure"-styled movie
Cinophile: ABCs OF DEATH
Listen to Sam Smith's SPECTRE theme song!
Last Updated: September 29, 2015