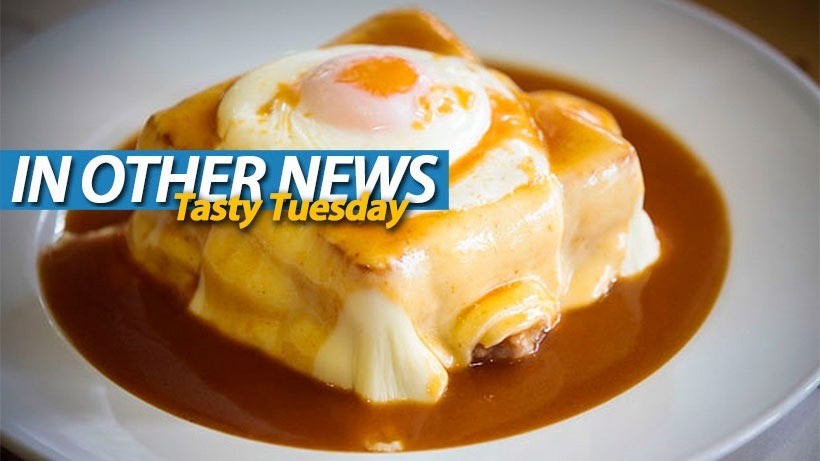 Earlier this year, I wrote about one of the finest sandwiches ever created; the very French, very awesome Croque Monsieur – which is really just a fancy name for an awesome ham and cheese sandwich. Despite being loaded with cheese and sauce, it manages to stay delicate and light.
The Portuguese have an answer to this with their own take on the humble ham and cheese sandwich – and unlike the Croque Monsieur, it's anything but delicate and light. Hailing from Porta, it's a monster of a sandwich, stuffed with ham, linguiça, sometimes chourico or other sausage, steak or some other roasted meat and then covered in cheese, which gets melted. It then gets drenched on a tomato and beer-based sauce and is served with chips. As is often the case, it may even have a fried egg on top of it.  It may give you a heart attack, but it's also life-changingly delicious. Want one? You can grab a Francesinha from the genuinely awesome Pastelaria Princesa in Johannesburg's Kensington, which is where my colleagues lunched without me today. The dicks.
In Other News – Metal Gear Nonline, more PressStation news, Halo 5's Radar is on the fritz and grow a mo' in Warframe.
Here's the news we didn't post because we were too busy trying to eat solid foods.
News
Only 35% of U.S. eSports fans play games on PC
Battletech Kickstarter breaks $2.5 million in funding with one day remaining
GTA Online players may soon be able to live in a super yacht
Dirt Rally update adds "Modern Masters"
Konami shuts Metal Gear Online studio – report
Failsafe wants to inject Mirror's Edge with a bit of Studio Ghibli
Mojang pushes back Cobalt release to February
PlayStation's holding another press briefing this week
Stuff
The story of Solitaire, one of the world's biggest games
Why Halo 5's radar is driving some players up the wall
More games need daily challenge modes
Five dark sides of the tech industry that nobody ever talks about
Videos
Failsafe – Gameplay trailer
Valhalla Hills – Viking gameplay trailer
Warframe – Movember trailer
What's on at The Movies
Forest Whitaker and Vince Vaughn to star in THE ARCHBISHOP AND THE ANTICHRIST
At its core this trailer for 400 DAYS is a social experiment
There's something odd about the people in this first trailer for ANOMALISA
Mark Ruffalo talks THOR: RAGNAROK; not optimistic for solo Hulk film
SPECTRE has already smashed European box office records!
A new STAR TREK TV series due in 2017! STAR TREK 4 dated for 2019!
It was one Hell of a Halloween with these trailers for LUCIFER
Last Updated: November 3, 2015