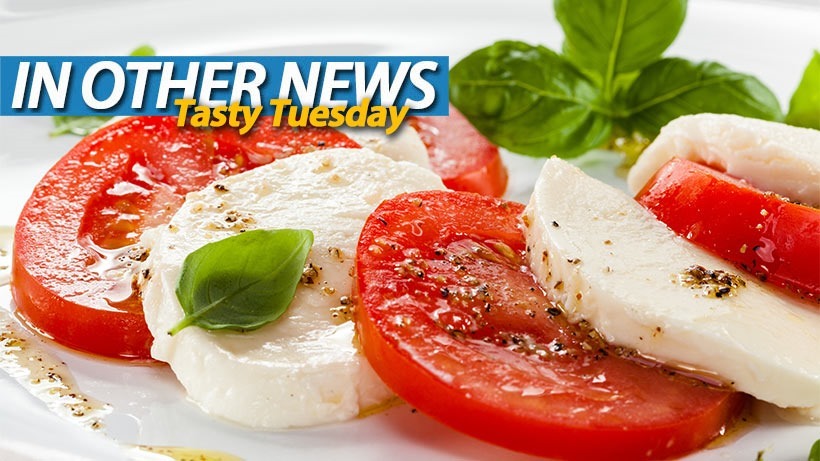 I am a natural born carnivore. It's not very often that I'll go in for a vegetables, something free of the grilled flesh of some unfortunate animal, or even worse, a salad of some sort – but there one salad that perpetually calls out to me – if you can even call it a salad, really. It's one of the most simple, delicate, yet delicious things on the planet, and is made with just four principal ingredients, not counting your usual seasonings.
That would be the infamous insalata caprese. Freshly sliced, firm tomatoes, mozzarella di bufala, fresh basil and extra virgin olive oil. Seasoned with a bit of coarse salt and freshly ground black pepper, and it's the taste of summer.
In Other News: Rife is strange, be the football manager you want to be, play with your afterbirth, and be there or be QUBED.
Here's the news we didn't post because were were too busy watching people hurling racist epithets and shouting about free speech.
News
Q.U.B.E: Director's Cut arrives on consoles next month in US
Fallout 4 to be uncut in Germany
Life is Strange is being dubbed in Japanese
Binding of Isaac: Afterbirth trailer reveals October release date
Star Wars: Uprising is the first game sequel to Return of the Jedi, and it's out this week
Total War: Arena developers promise no more account wipes
Three Football Manager games confirmed for 2016
Stuff
Rihanna, the Pokémon gym leader
1080p60 and beyond: the best PC hardware for Metal Gear Solid 5
12 of the best gaming episodes in cartoons
Performance Analysis: Mad Max
Videos
Destiny – The Taken King Expansion – Cinematic Trailer
Dragon Age Inquisition – Trespasser DLC Trailer
What's on at The Movies
Chris Evans comments on the future of the superhero genre
River Song returning for DOCTOR WHO Christmas special; plus new teaser trailer!
Sam Smith confirmed as the SPECTRE theme song performer
STEVE JOBS early buzz: "Virtuosic filmmaking all around"
Cinophile: FOR Y'UR HEIGHT ONLY
This new trailer for THE NIGHT BEFORE is the best Christmas party in New York City
Screw Amerikaaaa… China turns TERMINATOR: GENISYS from flop to hit
Last Updated: September 8, 2015