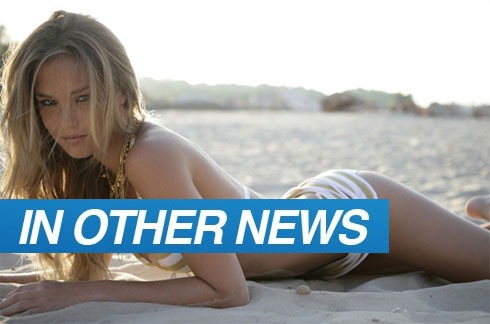 In just a week it'll be time for the kick-off to the inaugural World cup 2010 match between Bafana Bafana and Mexico. My esteemed colleagues will also be on their way to E3. I'm going to simultaneously celebrate and drown my sorrows by drinking lots, and lots of beer.
Today in 1989, The Chinese army massacred hundreds of protestors in Tiananmen Square, Beijing. Not cool. Just last year, Kung-Fu's David Carradine, Bill from Kill Bill, was found dead – and naked – in his hotel room in Thailand. Auto-erotic asphyxiation or deadly mystical forces at work?
If I were to engage in a bit of auto eroticism today, I'd do it to pictures of Bar Rafaeli, model and one-time trophy girl on the shoulder of Leo DiCaprio. It's her birthday today, and that's just about the only way I can honour her. It's also Angelina Jolie's birthday, but If I were to try rub one out to her I'd only be able to picture her adopted, international brood. That would make me Mr Floppy forever.
Here's the news we didn't post because we were too busy pulling our goddamned hair out because the site hasn't exactly been working properly.
News
Crackdown 2 is finished
3D to Dominate E3
Harmonix Working on Natal Dance Game?
No Co-op Campaign in COD Black Ops
Screenshots
Gears of War 3 Art and Screen Blowout
APB Looking Awesome
Stuff
Consolefont
Wii Massage Simulator
Videos
Guitar Hero 6 – first Look
Natal in Action
Last Updated: June 4, 2010