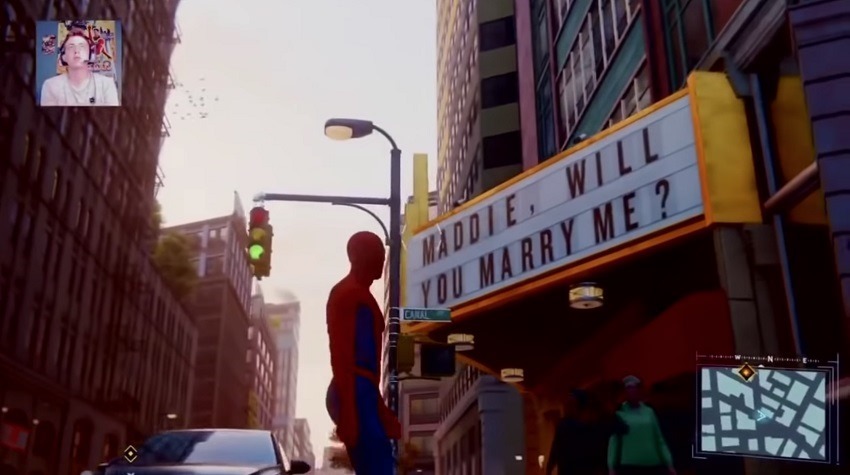 When it comes to popping that big question, some really do look for the most grand gestures they possibly can. Say what you will about public proposals, but at the very least they offer one of two things: a delightfully heart-warming success or a dreadfully awkward, heart-wrenching failure for everyone to witness. Lately, proposals embedded in video games have become a popular way of taking this to a new level. Rather than just share the moment with those around you, you share it with the millions that might be playing the same game. Which means the embarrassment of getting it wrong stings a lot more.
This is the dilemma one unfortunate Spider-Man player is facing right now, as Insomniac is promising to remove an easter egg embedded in their latest exclusive that no longer has a purpose. Back in May, Spidey fan Tyler Schultz tweeted to Insomniac asking if they could insert a marriage proposal into their game for him, which he'd use to pop the question to his girlfriend while they were playing at launch. Insomniac abided, inserting the proposal into a cinema's billboard for Schultz to find when he needed it. Unfortunately, it came a little late.
It turns out that Schultz and his girlfriend called things off a couple of weeks before Spider-Man launched, which leaves one very awkward, unnecessary proposal in the game. Schultz thanked Insomniac for their help regardless, with the studio promising they'd remove it if he wanted to avoid any further hurt. Schultz hasn't publicly replied to the offer, but I assume he'll take them up on it.
Proposals in videogames aren't novel anymore, but it seems they're a little harder to pull off than it might seem. I still think about how much effort was put into the very public engagement between indie game developers Rami Ismail and Adriel Wallick, which took place in Destiny with some custom emotes and items. Like any proposal it's a risk, and sometimes things just don't go according to plan. I'll give it an A-for-effort though.
Last Updated: September 10, 2018