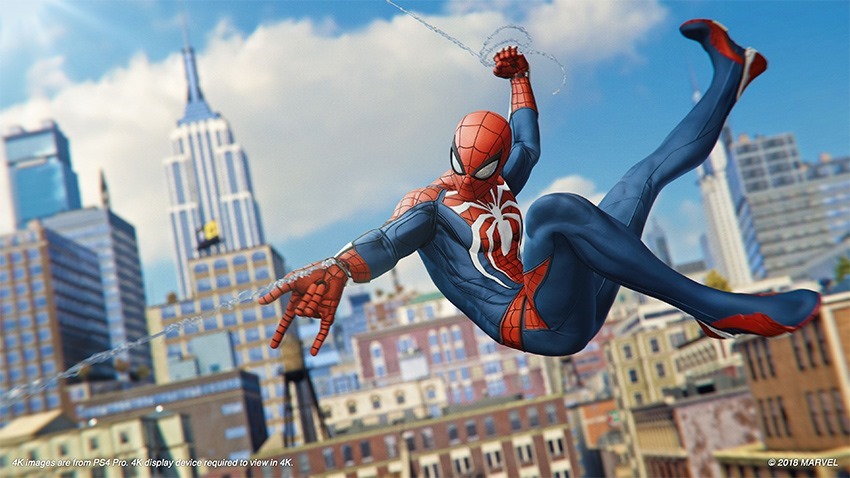 I didn't really like Insomniac's Sunset Overdrive. The whole thing was just a little too churlish and juvenile for my tastes – but there's no denying that the gameplay itself was fantastic, especially when it came to locomotion and traversal. Getting around in sunset overdrive – with its free-form zip-line skating – was a dream.
And it's that traversal that's informed Spider-Man's own web-swinging locomotion in the developer's impending PlayStation 4 exclusive.
"Previous to Spider-Man we made a game called Sunset Overdrive. It was an open-world game and I think that gave us a leg-up in terms of getting things started [on Spider-Man]," Insomniac's Creative Director, Brian Intihar told GamesRadar. "We thought, okay, we know how to build an open world, we knew how to build New York, we knew how to make a game based on traversal, and we wanted Spider-Man to have kind of the same sense of flow and overall style that we had in Sunset. But now we had to inject the Spider-Man-ness into it."
Here's what we said of Sunset Overdrive's superlative locomotion when we reviewed it:
"Once you start chaining together under grinds with boost jumps, air dashing into a wall run and vaulting off into a bouncy taxi, Sunset Overdrive just clicks. Insomniac has put an incredible amount of work into designing the city as a chaotic highway. There're always multiple ways to get around town, and it's so damned enjoyable that I completely ignored the fast travel system for the entire game. Movement is the heart of Sunset Overdrive, and it's near perfect."
It's the fluid, natural and effortless sort of motion that you can expect when Spider-Man hits PS4s next month.
"We knew Spider-Man was going to move a lot faster, and we knew that we wanted our New York to be bigger. Another thing is that Sunset didn't have vehicles, didn't really have a lot of NPC or pedestrians walking the street, so we had to take all that stuff into account. But I think if it wasn't just for getting our feet wet with Sunset as an open world, we would have had a harder time doing it, but our very talented team was able to run with it."
I played Spider-Man at E3, and while I didn't quite click with it as much as others did, swinging around New York was sublime. It's since been made a little faster too.
Last Updated: August 7, 2018