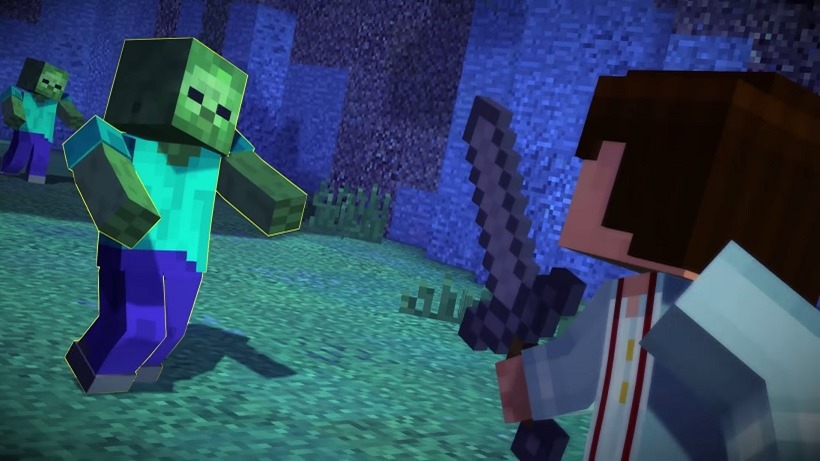 I really dig Telltale and their adventure games. They've made me question my decisions (and my very soul) countless times thanks to the likes of 'The Walking Dead', 'The Wolf Among Us', and more recently with 'Tales from the Borderlands'. The thought of their upcoming title, 'Minecraft: Story Mode' however, has me scratching my head for the wrong reasons. How on earth will that blocky game ever be turned into a compelling narrative? It's something I can't comprehend! Thankfully, I won't have to wait long to find my answer it seems, because a release date for the game has now popped up over on Amazon.
According to Amazon, Minecraft: Story Mode the season disc will be released on the 27th of October, on the Xbox One. Other platforms (all of them based on previous Telltale titles) will likely release around the same time. That won't be the entire game obviously, but rather, just the first episde of the 5-part season.
There's also a neat little blurb about what the story will entail (via Destructoid):
Minecraft- Story Mode is an adventure game set in a Minecraft world. It is a five-part episodic series that will take you to the Nether, the Farlands, the End, and beyond!
Here are some key bulletpoints too:
Created by award-winning adventure game powerhouse Telltale Games, in partnership with Minecraft creators, Mojang
Featuring the voices of Patton Oswalt (Ratatouille, Agents of S.H.I.E.L.D), Brian Posehn (The Sarah Silverman Program, Mission Hill), Ashley Johnson (The Last of Us, Tales from the Borderlands), Scott Porter (Friday Night Lights, X-Men), Dave Fennoy (The Walking Dead: A Telltale Games Series, Batman: Arkham Knight), Martha Plimpton (The Goonies, Raising Hope), Corey Feldman (The Goonies, Stand by Me), Billy West (Futurama, Adventure Time), Paul Reubens (Tron: Uprising, Pee-Wee's Playhouse)
You will drive the story through the decisions you make: what you say to people (and how you say it), and what you choose to do in moments of thrilling action will make this YOUR story
Phew, that's quite a cast! Still, Minecraft has little to no actual story, so I'm dying to see what spin Telltale give to that universe.
What about you? Does this game interest you at all? Are you excited to play it?
Last Updated: September 8, 2015