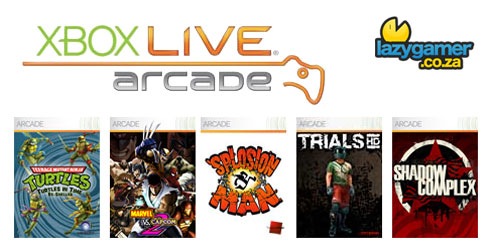 It's Summer for our northern hemisphere brethren, and that means it's time once again for Xbox Live's Summer of Arcade. Last year saw the release of some of Xbox Live Arcade's most prolific titles – Such gems as Braid, Castle Crashers, which are still two of my favourite arcade titles. Those of us stuck in the Southern hemisphere, hugging our heaters and mugs of hot chocolate can take solace in the fact that we'll at least have some hot, hot arcade action to keep our fingers warm.
Hit the jump to find to what we can expect (In case you missed them all in the header picture) – along with release dates and pricing.
Remember, if you're short on MS Space Bucks you can visit our local retailers mspoints.co.za and evogames.co.za to stock up.
July 22: TMNT: Turtles in Time Re-Shelled – 1200 MS Points
July 29: Marvel vs. Capcom 2 – 1200 MS Points
August 5: Splosion Man – 800 MS Points
August 12: Trials HD – 1200 MS Points
August 19: Shadow Complex – 1200 MS Points 
I'm rather excited about…all of those, particularly MvC2 and Shadow Complex. Any game that's inspired by Super Metroid gets my attention instantly.
While 1200 points may seem a little high for MvC2, if you consider the online play and its current eBay price for a physical copy, it's pretty much a steal.
Source : Major Nelson
Last Updated: July 10, 2009