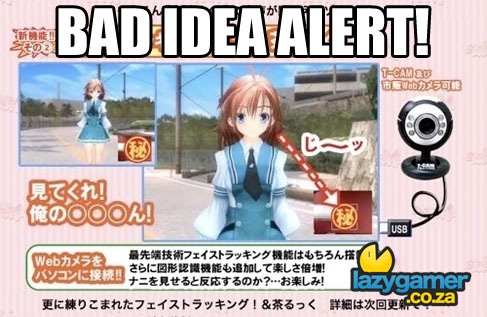 Oh Japan! There is no place quite like you is there? Eroge, or Erotic games – shady and depraved as they may seem – are quite popular in the land of the rising sun and until the relatively recent RapeLay controversy seemed mostly innocuous.
Enter Teatime, and their new eroge game Love Death 4. While it already contains questionable content, this particular game pushes the envelope just a little farther – by allowing webcam interactions that not only recognise faces, but other bits as well. While this could no doubt revolutionise the interactive adult entertainment industry, the combination of webcams and genitalia strikes me as a really, really bad idea.
My imagination has now been plagued with images of a naked Japanese man thrusting away at his television – something nobody alive should envisage in their mind's eye. Now if you'll excuse me as I take my leave – I'm off to try and flush my own head down the toilet.
Source : Gizmodo
Last Updated: September 22, 2009