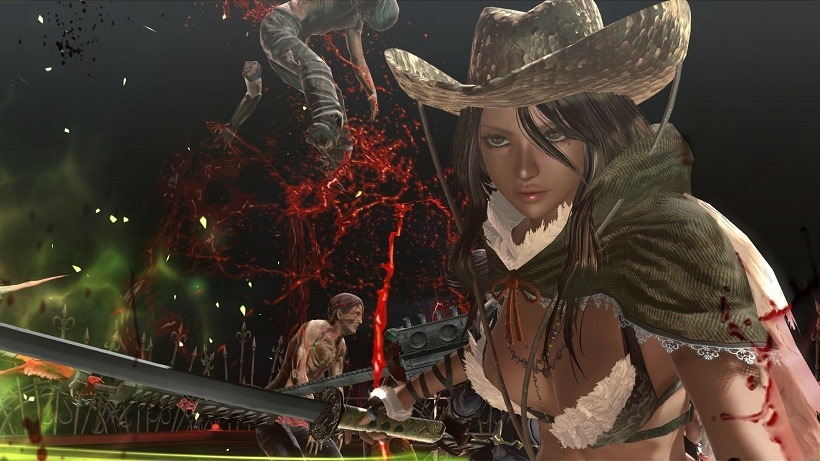 Hang on, Onechanbara Z2? Why does that sound so familiar? Oh yes, Darryn wrote about the Japanese game almost two years ago. He told us how bananas it was (WARNING: that particular link is NSFW if you scroll down the article far enough). It looks… interesting to say the least.
Anyhow, Onechanbara Z2: Chaos has always been a PlayStation 4 exclusive… UNTIL NOW! It's coming to PC too, and soon.
A listing for it has popped up over on Steam (via NeoGAF). When exactly will it release though? Why, on June the 1st.
That's right, if you've been dying to get your hands on Onechanbara Z2: Chaos, it'll be all yours from as soon as tomorrow, and with a full English dub too! Here's a bit more about the title…
Kagura and Saaya are schoolgirl sisters raised together by the Vampiric Clan, and rank among their strongest warriors. Aya and Saki are assassin sisters descended from the rival Baneful Bloodline, and represent their lineage with esteem.

Now, these four must learn to fight together against an undead army. Brought under one banner known as the "Zombie Punitive Force," these blood enemies will have to reach a mutual understanding in order to save the world as we know it.
And as long as they're working together, they might as well do it in style…
Onechanbara Z2: Chaos is the latest entry in the Onechanbara series. The Vampiric sisters and two legendary zombie-hunting sisters of Baneful blood battle through over a dozen stages of high-octane real-time swordplay. Fight off the invasion in gruesome detail, occasionally transforming into a demon for short bursts of added power and speed. Enjoy the gameplay experience with the original Japanese voices or – for the first time in series history – a full English dub.
So, is Onechanbara Z2: Chaos actually any good? Over on Metacritic, it's sitting with an average score of 57. The user score meanwhile, is at a much healthier 7.5, so take from that what you will.
Does the game appeal to you at all? Will you be buying Onechanbara Z2: Chaos as soon as it launches tomorrow?
Last Updated: May 31, 2016