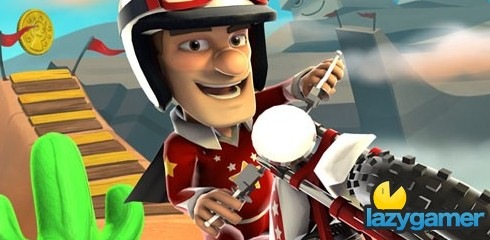 Joe Danger from Hello Games is one of those awesome games that just appears all of a sudden and you know from the first moment you see it that you just have to have it.
It's getting released exclusively on the PS3 today and tomorrow and should be available to download for around R150 (GBP9.99)
But the big news this morning is that it's exclusivity may not last and according to the developers it may see the light of day on the Xbox 360 in the near future… in fact it's already working on the Xbox.
"It does run on 360. I shouldn't say that, but it does," Hello MD Sean Murray joked on theEurogamer.net Podcast today.
However don't get to excited yet, there is no plan to release anything but the PSN version now and then they will see how it goes and go on from there.
This is a title I hope Microsoft decides to throw a little money over to bring it to the Xbox 360 and reward the team behind the game for their hard work.
What's more amazing is that the game was literally developed by 4 guys and the game is still getting rave reviews, which brings hope to us aspiring developers out there.
Source: Eurogamer
Last Updated: June 9, 2010