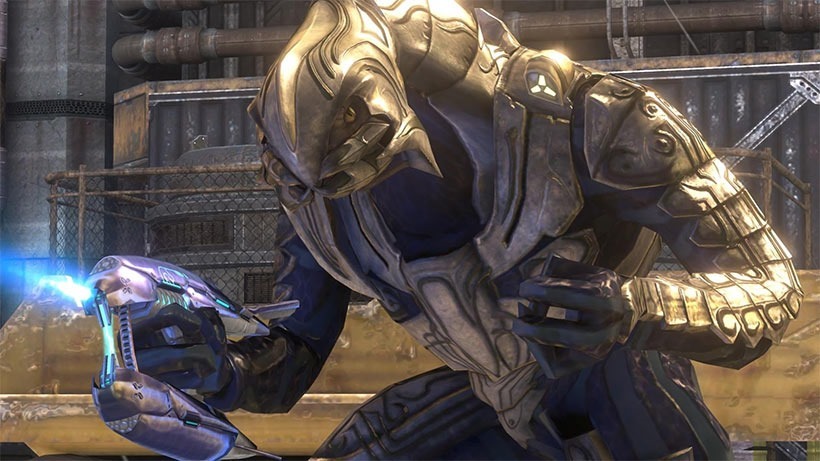 Killer Instinct on the Xbox One is one of the most under-appreciated fighting games of this generation. Taking most of its cues from Street Fighter (and then stapling on a functional, flash and easy-to-understand combo system), it's fun, fluid and a joy to watch.
I don't, however, think that its initial release as a free-to-play game has helped its public perception much. Originally, it launched with a handful of characters, with each new season of characters adding to its overall cost. That said, with each Season the game has improved and matured, and it can now stand shoulders-to-shoulder with the best of them. Season 3 shall soon be upon us, and it seems to be the series best – at least in terms of silly fun.
It's the one that adds Halo's Aribiter and some Battletoads, and looks to have received a visual upgrade as well. Here's a look at the Arbiter in action:
As for the changes to the game's graphic? Art Director Chad Greene described them in detail, explaining how the game will use a little more of the Xbox One's power. :
"In terms of visuals, we are adding new graphics technology; reflection tech for the stages; re-introducing screen space color adjustments that work with gameplay; adding an all-new dynamic lighting system that provides greater realism and interaction for the characters and stages. Not only will Season 3 feature this new lighting, but we've gone back and re-lit everything for Season 1 and 2 as well. We can't wait for our fans to see the enhancements of KI's visuals!

Killer Instinct S1 had a "deep black" look that many fans really loved, and we've gone back to it (with a ton of upgrades!), so you'll see deeper darks and more "mood" throughout all the stages.

As technology advances, graphics are becoming more and more powerful and the gamers have come to expect stunning visuals on today's console hardware. Early in development of S3, we knew that we wanted to raise the bar on many levels and have a deep passion for delivering on 'next gen' visuals. In order to do this, we had to overhaul the tools and the pipeline and we're really happy with the results and how we are utilizing the graphic power of the Xbox One.

Our lighting system was very specialized, and it was time for an overhaul. We met as a team to ideate and decided to use a system that allowed us to obtain dynamic lighting for the game, but work with our existing game engine. Once in place, our stages were completely re-lit utilizing the new tools while characters received updates to their lighting probes, which allows them to interact with the stage lighting. Characters now composite into the scenes in a way that is really believable – allowing for good integration/compositing while maintaining readability – especially important in a fighting game.

We are now able to get realistic bounce and fill lighting on the characters and we are using strong rim lighting (from behind) to further pull the characters out from the background.

We think the fans are really going to love the new visuals, they are going to notice details that they didn't before – which showcase a wide range of characters and stages (such amazing locations to be fighting in!) When you add up the real-time reflections combined with the new lighting system, you get a very compelling look and feel that stays true to the style of Killer Instinct but 'ups the bar' in regards to the game being a visual showcase."
Killer Instinct Season 3 is coming in March, along with the PC version, which promises cross-platform play.
Last Updated: February 22, 2016