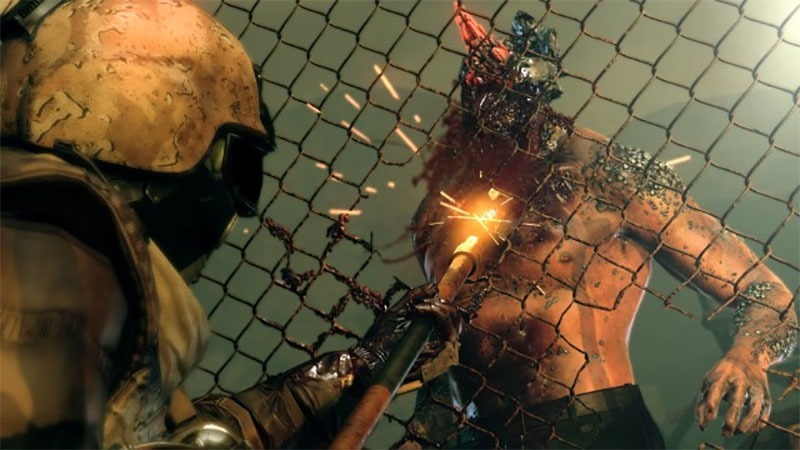 Metal Gear Solid V is an amazing and incredible game – right up until the point where it isn't. Thing is, it's Hideo Kojima's last Metal Gear game. And, some believed, Konami's Last Metal Gear game. But Konami's just announced a new one.
Only it's probably not what you'd hoped for. Called Metal Gear Survive, it's a four-player co-operative survival game that pits the remaining members of Militaires Sans Frontières (at least, the ones not dead by the end of Ground Zeroes) against a force of crystal zombies after being sucked through a wormhole. Yes, really.
Gosh, this sounds even more contrived and forced than the rubbish Kojima comes up with.
"Metal Gear Survive will offer a fresh take on the series' famed stealth elements," said Konami European president, Tomotada Tashiro in a press release, "but within a unique co-op setting that is designed for a truly engrossing multiplayer experience."
The game is something that's "a new addition to the Metal Gear Solid V experience." It's coming to Xbox One, PS4 and PC in 2017.
Here's what else the press release has to say about the game:
"In a struggle to stay alive on this harsh terrain filled with deadly creatures, soldiers who were previously on Motherbase now must work cooperatively in order to survive. Metal Gear Survive continues the pedigree of Metal Gear Solid 5's highly praised gameplay design, with a unique blend of stealth and co-op play mechanics.

"Players can strategically manage massive threats with the help of four-player online cooperative play. New weaponry will also be introduced to combat charging creatures and lethal environments as well."
Hmm. Sounds a bit like those Resident Evil Spin offs to me – and also probably dashes hopes that anyone at Konami was working on MGS V's third chapter.
Last Updated: August 17, 2016