By Chris 'Sargon' House
At some point in their journey most esports players, teams, or streamers tend to start thinking about acquiring a sponsor. The reason to do this is pretty straightforward, sponsors help provide resources to fulfil a variety of needs. For instance, a sponsor might reimburse a Dota 2 team for their travel and accommodation expenses when going to a LAN. A streamer might get some awesome gear to help them acquire the best possible streaming setup. Players might need better hardware or peripherals to run their game of choice at higher frames. Of course, some will want financial support.
Of course, these aren't free handouts. Sponsors get something in return. It can be as small as a logo on your team shirt, or more significant integration with the sponsor brand (attending brand events, activations, engagement with the community, et cetera). It's generally a question of matching the value you give to the value a sponsor provides. Of course, quantifying value is an incredibly difficult task. It's even further complicated when it's not always clear how best to approach a brand, or what brands even want.
That's why I spoke to Quinton Blaauw, the co-owner and marketing director of Techtraders, about these issues. Techtraders are the official distributors of Cougar Gaming in South Africa, and as such Quinton has first-hand experience of partnering with local talent. This is a long, but informative, piece. Strap in!
Chris House: Why is it important for Cougar Gaming to be involved in the local gaming, esports, and streaming space?
Quinton Blaauw: One of the big things for us is that a large proportion of our team here at Cougar Gaming are gamers. I'm not just talking about the South African office, I'm talking about head office, I'm talking about the design team. There's a big passion for gaming just off the bat. Of course, we want to be involved.

A second important factor for us is feedback. By getting involved with top-tier esports personalities, or streamers who spend a large amount of their time using the gear, we create relationships that allow us to get good feedback on our products. We get great ideas on what we can possibly improve in the future for the gamer at home.
Cougar Gaming has partnered with eXdee Gaming. How and why did this happen?
Our MGO pick was a very slow process, where we were getting a lot of offers and interest. We wanted a team that was involved in the local community, but more so we wanted a team that did things a little bit differently. A lot of the organizations were working with very established talent, which is really important. What we were missing is a team that was willing to take a chance on younger players, and give them an environment to grow. This is how we ended up settling on eXdee. They seemed to be taking the most initiative on building young talented teams. Their passion and vision align greatly with ours, which is very important.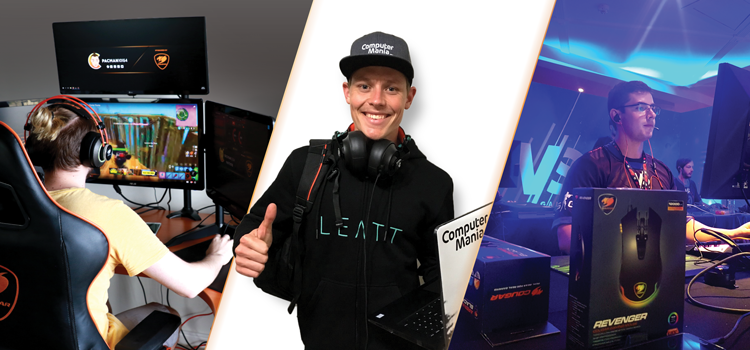 Image courtesy of Cougar Gaming.
What about your partnership with local streamer Kyle "Pacman10154" Swart?
We actually approached him as he'd been on our radar really early on. We knew we needed to learn more about the community and understand who all the players are. This helps us understand how we fit in. Essentially this meant we started making a few lists, where we'd start monitoring some people and checking up on them every now and again. You often learn a lot about the community just by being a part of it in this way. We had the marketing team get involved there and really ensure that we stayed connected to the community.

When we thought we were ready for partnering with a full-time streamer, we went back to this list and started going through all the names. That's when GeeMax reached out to us, and recommended Pacman10154. At this point, the quality of his stream had improved dramatically. He had a clear schedule he stuck to, as well. We put him on a short-list, and the more time we spent watching his streams the more we were interested.
How do you define value in these partnerships?
This is a question that comes up all the time. In our opinion, the best partnerships are ones where you add value. That doesn't always mean monetary value. That value needs to be something that almost can't be bought. It's something that no amount of money can create that overnight. The kind of value that each partner needs is absolutely different, and that's why we do every case on its own merits.
I'm about to approach a brand for a sponsorship. What should I be thinking about?
The big thing for us is that a lot of people approach brands not knowing what their strengths are. When you're looking at the complex local landscape in which streamers exist, for instance, it can often be chaotic. It can be really difficult to identify the strengths of a personality or team. That's the first task. The best way to showcase strength is in numbers. Numbers don't lie. It's always a good base to throw down and start from, no matter how small. The fact that you have shown that you're analytical about processing your own strengths is also really important. Even if your viewership isn't as big, the fact that you have outlaid it in an understandable way for us is critical. Are you an Instagram focused engager? Already there we have an understanding of where your focus lies.

Thereafter, "This is my reach." Or, "This is the type of community I have." Outlining these things helps a brand better understand exactly how well you align to each other. This ultimately allows brands to decide whether they can add value there. Even if you're really small, if you do something really well a brand can add value. You might not have the largest audience yet, but you're able to offer value in other ways. For instance, you are really good at taking cinematic shots of products and you're willing to edit it for said brand. That brings value to the brand, and you get content for your channel. That's just one example off the top of my head. A lot of people approach us not fully understanding their own landscape, and where they fit in.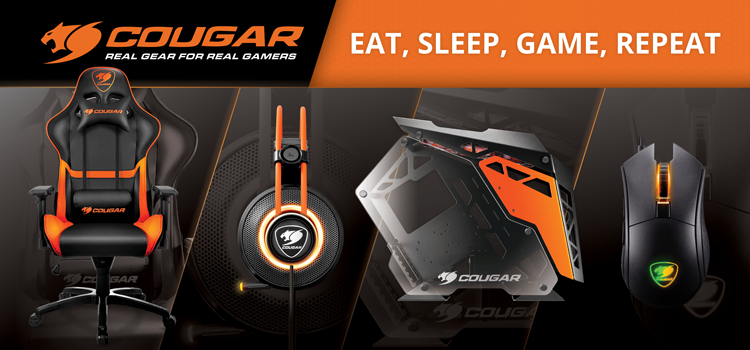 Image courtesy of Cougar Gaming.
Any other tips here?
I think the biggest tip I can give to anybody out there is that language is such an important medium of communication, and a second could change anything when it comes to language. With that being said, especially for a brand such as ourselves where we're very much family orientated, when we bring a streamer onboard you become part of the Cougar family. We interact on a daily basis. We need someone who best represents that family feel.

There are just some things that you wouldn't say in front of your parents. That's the real question, do you feel you fit into that? I think a lot of brands feel that way, that it's difficult to find someone who fits that. Just by starting off by ensuring you're friendly to a degree in that sense, is critical.
I'm putting together my proposal right now. What do you expect to see in there?
Outline all your strengths, first of all. This is really important. Then to pull that out of the context of your community is also important. It also needs to be formalized to some degree to be taken seriously, because you certainly don't want to make it seem like this is a joke. By all means, you can crack a joke in an interview and get away with it. This becomes a little more difficult to do in a piece of writing. Then it's also important to backup your role or position you claim to have with some form of indicator to us that you can deliver what you're talking about. So we know you're not just making it up.

Evidence for this comes in many forms, and can be a successful project you have run in the past, whether a brand was involved or not. Relate back to these previous projects you've been involved in, preferably with a brief outline of what you've achieved.
What are some of your biggest frustrations?
What can be frustrating is probably seeing how little information the community has on what brands want. Some other things we struggle with? Not having a formalized proposal or idea, but approaching us with a generic open-ended question. It's difficult for us to give people an answer if we have no information to work with. Most times this is just impossible. If I get a proposal with a question, and it's backed by information that proves to hold ground not only in the proof you've given, but also in what we've seen when reaching out to your social media accounts or et cetera, that's a strong start to any conversation. You want to have that strong start.
What are some of the most common questions you get about sponsorships?
We often get asked how many retweets for X item. The follow-on question for us is, "What is the value of an impression?" That's any marketing nightmare right there. What I would want to focus on here is saying, "You have a need. Brands have a need. Let's address both of those needs in your proposal." A brand's need is to connect with the community, to be involved. Are you addressing that in any form or way in your proposal as to what you can do for the brand? Then how much can you ask for what you're about to provide? That's where evidence is important and starts to weigh up. Can you deliver?

We also get a lot of general questions, where people want to know what we are looking for in streamers or teams. These are very difficult to answer. People are looking outwards for an answer, and you really need to look inside. It's about you, not about other people.
A sponsorship proposal sounds a lot like a CV.
Exactly. A sponsorship request is essentially a CV, and that's why we want to see, "This is me and what I'm good at."
Anything we've missed or we haven't touched on that you'd like to add?
I think we've covered a decent amount here. It's important people understand the framework of approach we've outlined here. If you take this framework, it should apply across all things whether you're a streamer, tournament organizer, or a MGO.
Like esports?
Check out esports central
Last Updated: July 18, 2018