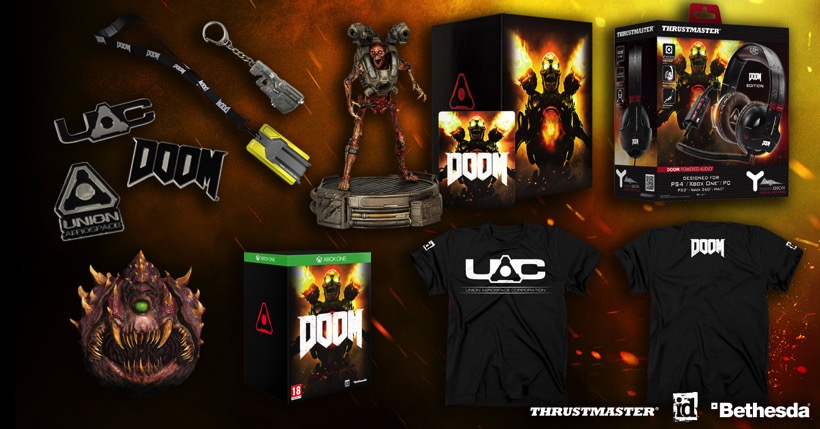 I like to think that I never miss anything that goes live on Lazygamer. I like to believe that I've got my finger on the pulse. But I also know that sometimes I get busy and I don't necessarily read everything that's written, especially when Darryn decides to wax lyrical about some random game or WWE or something. I know some of you guys also miss out on our awesomeness from time to time, which is why you deserve this reminder – we have an insane Doom prize for you to win.
Doom is apparently awesome, and the way the guys have raved about it gave me almost more FOMO than I have thinking about them jetting off to E3. But then there's this giveaway and now I really wish I could also enter – it's not just the game, it's all the cool stuff!
DOOM Collector's Edition (Xbox One)

DOOM Thrustmaster Headset

DOOM Shirt

DOOM Key Ring

DOOM Stress Ball

DOOM Pin Set

DOOM Lanyard
While that might sound pretty cool, it looks even more epic. Check it out.
I'd love a new headset. And that stress ball is seriously calling my name. Of course, I'm not going to enter, but you all should. Then you can give me the stress ball. No, you don't have to. But if you want to enter, it's really easy. Just click right here, fill in your name and email address and perhaps sign up for our newsletter. That's it. Easy as pie (although I've never made a pie… are they easy to make, or is this referring to how easy they are to eat?).
Huge thanks to our awesome friends at Ster Kinekor for making this prize possible.
Last Updated: June 9, 2016