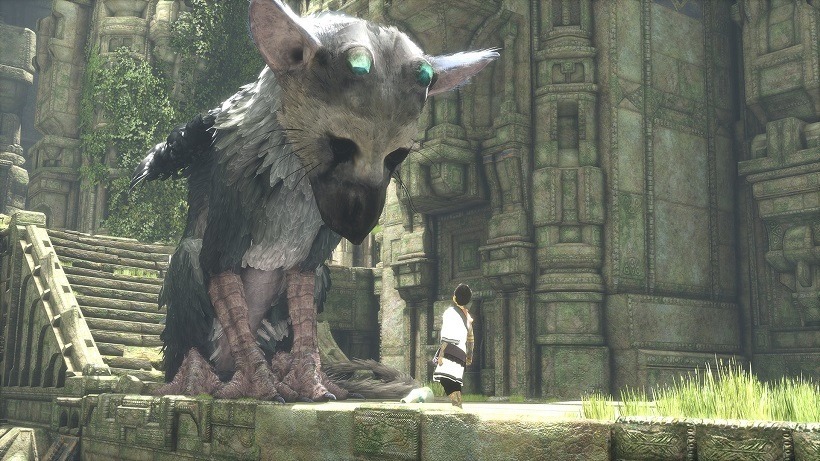 So long that the game might have even been delayed again by the time you finish it. Although even with the terrible history the nearly decade long project, a few minutes are unlikely to change its now final (hopefully) December release date. So if you're still holding on to hope, these next few minutes are for you. With a new area and a whole bunch of Trico footage, The Last Guardian still has some magic left to dazzle viewers with.
The new footage comes courtesy of Famitsu, who were on hand at TGS to grab nearly 20 minutes of brand new footage of The Last Guardian. It's not previously behind closed door stuff either. This new area is entirely different from the one press (including Matthew) got hands-on time with at E3. Back then, he didn't like it that much – and it's unlikely that a new area with hopefully more complex puzzles are going to change that.
Back in June, Matthew had some serious reservations about how the game controlled. Ico and Shadow of the Colossus as brilliant as they were suffered from the same issues. The Last Guardian will truly have to be an unforgettable experience to help players forgive what is now considered terrible design – which would be a miracle in itself given the incredible amount of time Sony has dedicated to helping make this once PS3-exclusive a reality.
What I'm not confident in though, are the horrible controls it possesses. The Last Guardian really struggles in this department, which is disappointing, as it will hamper the overall experience.
Still, there's a part of me that hopes The Last Guardian does turn out surprising. Because as a game, it's exactly what I look for. Calm, mysterious and full of puzzles, The Last Guardian on paper still sounds like the same spellbinding experience that captivated me all those years ago. But the more logical side of my brain tells me to be cautious – as should anyone looking to pick it up blind on release day.
Last Updated: September 19, 2016