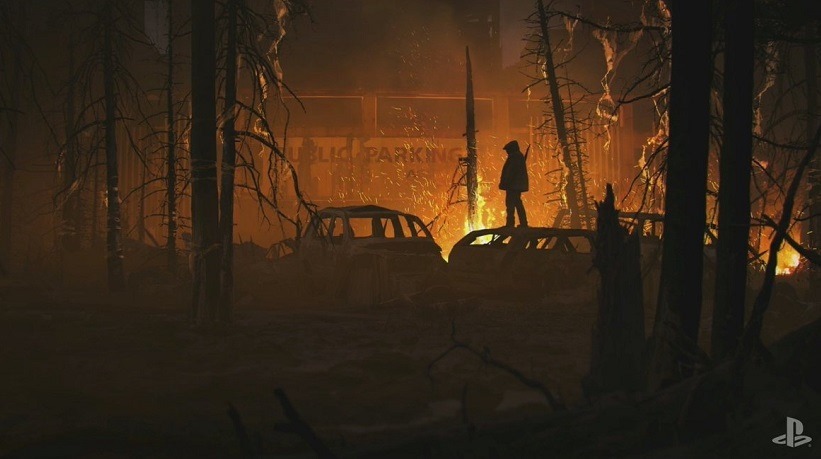 The Last of Us was very much a story about love, and some of the heartbreak that sort of emotional connection can bring. Throughout the tale Joel and Ellie grow closer together, a connection that has some dire ramifications for the eventual end and incredible closing scene of the game. Speaking on a panel shortly after Part II's reveal on Saturday, Game Director Neil Druckmann said that while their first tale tackled the formation of bonds, their second act will be about breaking them. Part II, in short, is a story "about hate".
Druckmann touched on this briefly during the panel, shortly after confirming that Ellie would be the main character in their sequel that takes place a couple of years after the first game. Ellie is now 19, and judging by the events of the stunning trailer she's lost her way somewhat over time.
The house in the reveal is full of dead bodies, with one laying at the feet of an Ellie with bloodied, cut hands. It's very clear that she's out for revenge, and Druckmann touched on how that affects the tone of their follow-up. Ashley Johnson, the actor behind Ellie, explained that the character would have "gone through some shit" prior to the events of the game.
Druckmann also addressed the elephant in the room pointing out how he understood some fans' concerns about what a second story with these characters meant for the genius, ambiguous ending of the first. They explained simply that no one wants the best for these characters more than he and his team, and that fans should trust that they'll do right by them.
"You have to understand that no one loves these characters more than we do, and we would not do this if we didn't feel like we didn't have the right idea. All I ask is that fans of the first one put some faith in us, trust we're going to do right by them."
The Last of Us II has an internal release window at Naughty Dog, but it's still far too early in production for it to be discussed. Druckmann did express that the game is probably further off than people expect, so be prepared to wait a while for Ellie's tale of redemption.
Last Updated: December 5, 2016