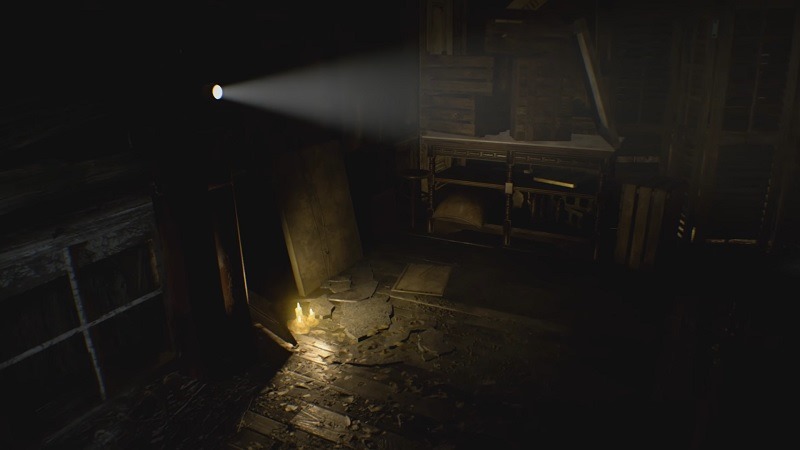 Capcom have dropped a plethora of Resident Evil 7 teasers over the past few weeks, all of which have given me hope that the game might actually be good – unlike that other one that rhymes with president weevil sticks. The latest set of videos are no different in making me feel positive (via VG247). In them, we see the return of more franchise staples, which bodes well for the title I think.
The first teaser is called "A Closer Look", and it shows the simple act of inspecting an item. There's a lot more to this mechanic in Resident Evil 7 though it seems, at least when compared to past titles in the franchise:
In previous games, an item would have to be picked up and inspected in the inventory menu. Here, it's observed in the same manner, albeit in real time. I'd hate to be busy inspecting something while an enemy is nearby!
On top of this, in the teaser, when the steel box is rotated enough, we can actually hear its contents roll over on the inside. That simple mechanic could be vital for finding something important, or puzzle solving in general.
Speaking of which, the next teaser, "Imagination", gives us a taste of how important grey matter may be in Resident Evil 7. In it, we see our protagonist trying to make sense of a spider puzzle:
I know Resident Evil 5 and 6 had their own set of puzzles, but they were very much on the light side. Capcom didn't want to detract from the action too much I don't think. Based on these two teasers, in Resident Evil 7, it really seems like we are going back to a more classic puzzle formula – one which requires inspecting items, and carrying them back and forth in a trial and error method (if a clue or two is missed of course). I really, really like that.
I was a naysayer upon reveal, but I must say, Capcom are winning me over with all these little snippets of information. It really seems like they are taking Resident Evil 7 seriously, and earnestly taking it back to its classic roots. Here's hoping the final product holds up to my slowly rising expectations.
Last Updated: November 2, 2016