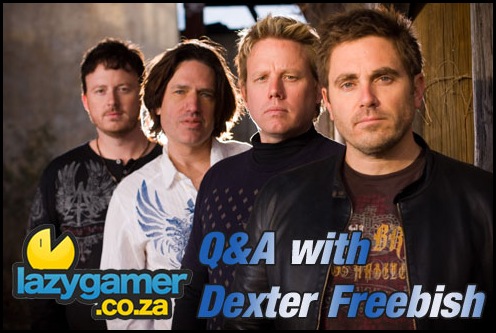 Dexter Freebish is a band that, thanks to South Africa's rather sterile radio, a lot of you might not have heard of. What you most certainly have heard though is their music. Tiger Woods 2004 treated you to their song "Ghosts"; In Superman Returns you could hear their contribution "Save me"; Two of their songs – "Falling Down" and "Life of Saturdays" were featured in NHL 2004.
Most interestingly though, was their song "Pretty People" which was re-recorded in Simlish for The Sims 2 : University. "The Other Side," the title track from their brand new album will also be featured in upcoming, highly anticipated life-simulator The Sims 3.
It seems then that the music of Dexter Freebish and the world of videogames are well acquainted. Indeed they are, and more so than you'd imagine.
After parting ways with Capitol Records, the band partnered with Artwerk, a record label owned by EA Games in partnership with the Nettwerk Music Group. We had the chance to have a brief Q&A session with Robert Kyle, the band's lead singer.
Q: Artwerk is an EA initiative. How did you get involved with Artwerk, and how is working with them different from working with a traditional label?
A multi-layered question deserves a multi-layered answer. Steve Schnur, the worldwide executive at EA, has been a fan of the band for about a decade. Steve actually signed Dexter Freebish to capitol records back in 1999. Then, Steve made the move to EA in approximately 2001-2002, and remained a friend/fan of ours. He's been putting Dexter Freebish songs in video games ever since. We took a break from music and writing for few years, but recently we began writing and recording again. We played a few of our new songs for Steve Schnur and others at ea and Nettwerk. That opened the door to doing a publishing deal with Artwerk.
Working with Artwerk is so much better than working with the antiquated record labels. We, the artist, keep creative control. We, the artist, get to share in the financial success' that a song might have. The marketing of our songs through games puts our music in touch with the world. You don't have to go through process of expensive touring and being away from family to find an avenue for success. We could not be in a better place right now.
Q: Music has become an integral part of video gaming. What are your thoughts on the connection between music and videogames?
The connection between music and video games is huge. Like I said previously, it's the perfect way to market music to the world. People all over the world are playing the games, hearing the songs, and if they like one song by a particular artist, it opens the door to that band/artists whole catalogue of music. What a concept!
Q: Your song "Pretty People" was recorded in Simlish for the Sims 2. What were the challenges you experienced in re-recording in a faux language?
Well, we love a challenge. There are positives and negatives to recording in a faux language. The positives are, that the lyrics don't have to make sense or follow any particular story line. The negatives are the lyrics don't have to make sense or follow any particular story line. All kidding aside, we had fun with it. Once you get going, it actually wasn't too tough.
Q: Were you supplied with a script of sorts, or was it all improvised?
No script, it was all on us.
Q: "The Other Side," the titular track from your new album will be featured in the upcoming Sims 3. Will that also be recorded in Simlish?
We will use the original recording of "The Other Side" in Sims 3. There will be no Simlish version, at least for now.
Q: You've also had songs featured in other games – What was it like the first time you heard your music in a game?
It's always cool to hear your music in a video game. I kind of relate it to hearing our songs on the radio for the first time, or hearing our song "leaving town" in the movie tomcats. It's always a great to have your music out there, and it makes all the hard work worth it.
Q: There's been a proliferation recently of rhythm-based music games – Guitar Hero, Rock Band and the like. They've also gained some notorious detractors – such as Chad Kroeger of Nickleback and the Gallagher Brothers of Oasis. What are your views on these games?
I enjoy these games. I don't have any problem with them. I hope Dexter Freebish can get a song in "Guitar Hero" or "Rock Band" someday.
Q: Are there any plans to get any of your music featured in rhythm games?
Not set in stone yet, but Steve Schnur said he was going to see about getting a song in the next "Guitar Hero". We'll wait and see.
Q: Are any of you gamers yourselves? If so, what are you currently playing?
We do play some games here and there, I have been playing "Rock Band" quite a bit lately. It is a damn good time!
Q: How have videogames, and your inclusion therein influenced your audience?
It's influenced us in nothing but a positive way! We get emails all the time from fans that found out about our band through different video games. We have fans, at our live shows, that discovered our music through games and now have purchased and love all of our music. It is a great way to expand any band's audience.
Q: What's next for Dexter Freebish?
Well, we plan to keep writing and plan on releasing some more new music later this year. So keep your ear to the ground, or rather to the video games, for more great stuff from Dexter Freebish.
For more information – and to listen to a few selected songs from the band's catalogue – visit the band's official site – www.dexterfreebish.com.
Last Updated: March 13, 2009