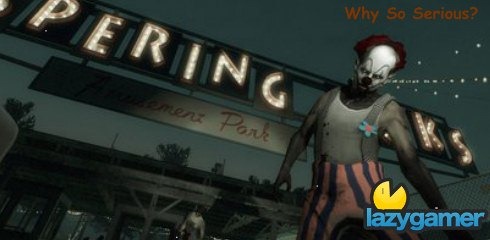 By Chris van der Watt
New campaign, new enemies – even more blood pumping, and spraying, action.
No one has managed to quite put their finger on why the original game sparked such success, one could argue it was easy to play or the usual desire for people to feel terrified.
Apparently killing zombies is something people enjoy thoroughly and with Valve's new instalment of the massively popular zombie-shooter fast approaching, the developers are still as eager as ever to show case the all new and improved gore fest for the droves and droves of eager zombies (read fans).
PAX 2009 was the latest venue for the Valve team to show off their stuff and the first thing to be revealed was yet another intriguing campaign for players to blast through. Dark Carnival.
My own childhood fears of clowns are apparently the inspiration for this campaign as players will not only compete with navigating through the eerie night time carnival area, starkly contrasted to the daylight streets of New Orleans, but also stomp out a number of grinning zombies keen on spreading the fun (read death).
However, assisting the player now is also the latest melee weapon to be introduced – the katana (read awesome). Yes you read correctly – killing zombie clowns with a samurai sword. I think that's about as close as well as anyone will ever get to dividing by zero. And making it even more awesome will be the new game engine that allows for severed limbs and sliced torsos to quench even the most blood thirsty zombie-hunter.
Along with the addition of possibly the greatest melee weapon, Valve also revealed some new mini bosses that players will encounter. Most notably – The Jockey. Like the Hunter in terms of ferocity, this new adversary will pounce and be able to ride the player toward eager zombie hordes, making another element of tactical game play great and challenging for both survivors and zombies.
Watch out for the zombie apocalypse hitting both PC and Xbox 360 this November!
Last Updated: September 7, 2009