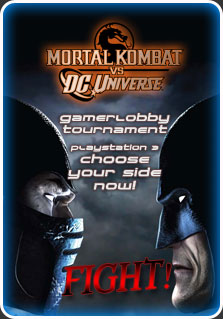 Our resident tournament organisers are back at it and this time it's Mortal Kombat and it's on the PSN…
That's right it's time for our Playstation fans to show us what they are made of and stand in line to be crowned uber awesome champion of the world… or the local PSN community at least.
The tournament officially starts up on the 16th of February but registrations close on the 13th so you better not leave it until the last minute.
So if your interested head on over to Gamerlobby.net and sign up for some button mashing action.
Even better news is that there is no entry fee for this competition and I know kold is hard at work trying to organise you some awesome prizes so lets wish him luck.
Source: Gamerlobby
Last Updated: February 10, 2009