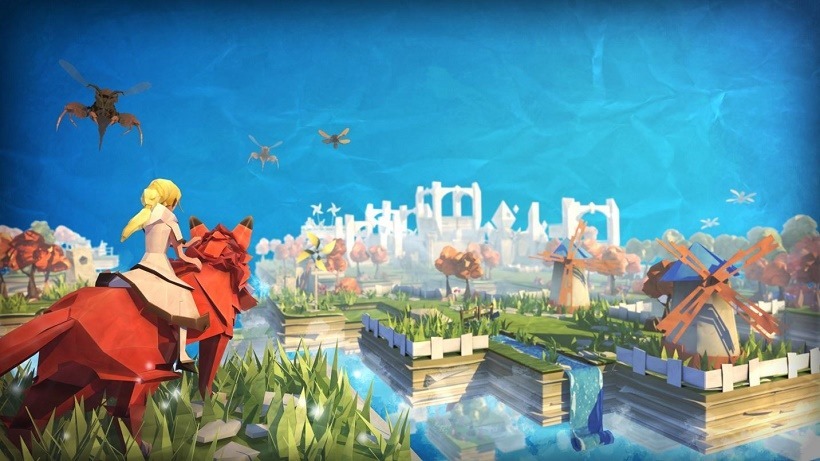 It's hard to make typing fun. Believe me, I know – I spent many an hour in my youth being subjected to some of the worst, most boring typing programmes in existence. All they did really, was throw out random jumbles/words/phrases, and asked that they be returned as fast as possible via the keyboard.
Today, that's all changed somewhat. Yes, you still get traditional tutors that would put even Geoff to sleep, but that's not all. Some creative people over the years have gone about combining typing with gaming, with some interesting results.
Epistory – Typing Chronicles is the latest example of such a combination, and honestly, it looks damn rad! Here, see for yourself (via PC Gamer):
In Epistory you play the muse, a fictional character in a world where everything is untold. Your adventure begins on a blank page, but the world will soon become larger and livelier as you gather inspiration, solve its mysteries and defeat its enemies. From movement to opening chests and fighting in epic battles, every element in the game is controlled exclusively with the keyboard.
Explore a beautiful paper craft world: play as the muse riding a giant three tailed fox, lost in a fantasy 3D world
More than just typing: solve mysterious puzzles, unlock magic powers and defeat enemies in adrenaline pumping epic combats
A writer's block? Collect fragments and inspirations points to unfold the story as you explore the origami world in the writer's head. But there is more to the story than meets the eye…
All in keyboard: from movements, combats to even menus, control everything with a keyboard
Adaptive difficulty: if your hands fly around the keyboard or if you are a slow typist, the game features a dynamic difficulty system that evolves to fit each players' skill set
Competitive Arena Mode: challenge other players for the top spot in the arena leaderboards
Play in your own language: game texts are localized in English, French, German, Spanish, Portuguese (Brazil), Russian, Polish with voice overs in English. The game supports several keyboard layouts (QWERTY, QWERTZ, AZERTY, BEPO, Dvorak, Workman and Colemak)
How cool? The visuals and style alone have me intrigued. They remind me a lot of Tearaway, which also took the whole origami approach.
Not only that, the story itself seems to be really interesting too. Being a budding author myself, I'd love to play through the tale of somebody looking to gather inspiration for their masterpiece. The fact that the adventure requires a whole lot of typing will work in my favour as well – I'd never say no to being a faster writer!
That's just my feeling though. What do you think about Epistory – Typing Chronicles? Will you be grabbing a copy?
Last Updated: April 5, 2016