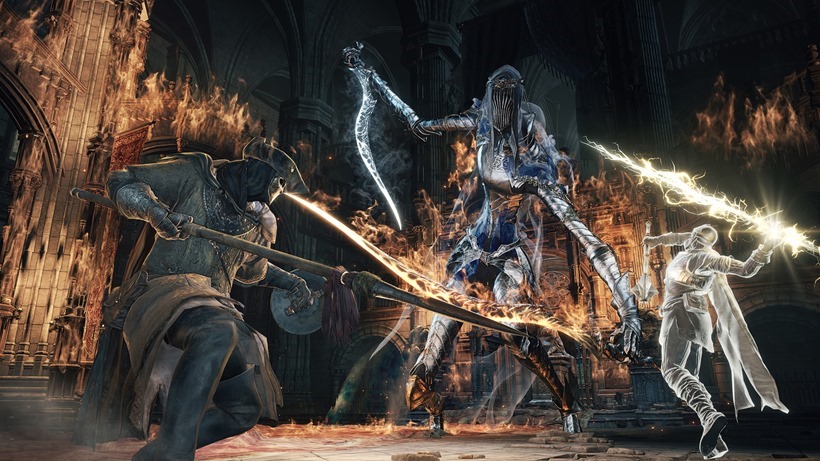 I've never been able to get into Dark Souls. It's not that the games are just overwhelmingly depressing, but also because I can't handle playing a title where my main character is pining for the Fjords/bereft of life/ceased to be/an ex-parrot.
Still, you lot seem to love the game, making me wonder how many of you play it while wearing a leather gimp mask. And that's ok. I get you dude. That's your kind of game. After all, I have no room to talk. I play Naruto games as it is.
Anyway, next year sees a new Dark Souls game pop up. You're going to die all over again. Again. Again. To get you in the mood, here's a bunch of new screenshots of your impending doom, via AGB:
Now as I mentioned, I'm no Dark Souls expert. Fortunately, Zoe is married to one, and good ol' Dean filled me in with some info from those screenshots. According to the lore-meister, he spotted talismans and catalysts for casting, as well as a link back to From Software's other hit gothic RPG, Bloodborne.
I mean, that armour pretty much does scream of Bloodborne inspiration. Oh my yes. I still need to pad this article out a bit, and I can't think of anything to else to say. So here for your enjoyment, here's a Dark Souls poem that I just made up and will not backfire on me in any way whatsoever:
Roses are red

Violets are blue

Dark Souls is rubbish

I see you're about to drown me in a loo
Roses are red

Violets are in bloom

If you like Dark Souls

You're probably on shrooms
My first book of poems will be out in time for the game release, right next to the shop that sells pitchforks and torches.
Last Updated: October 15, 2015