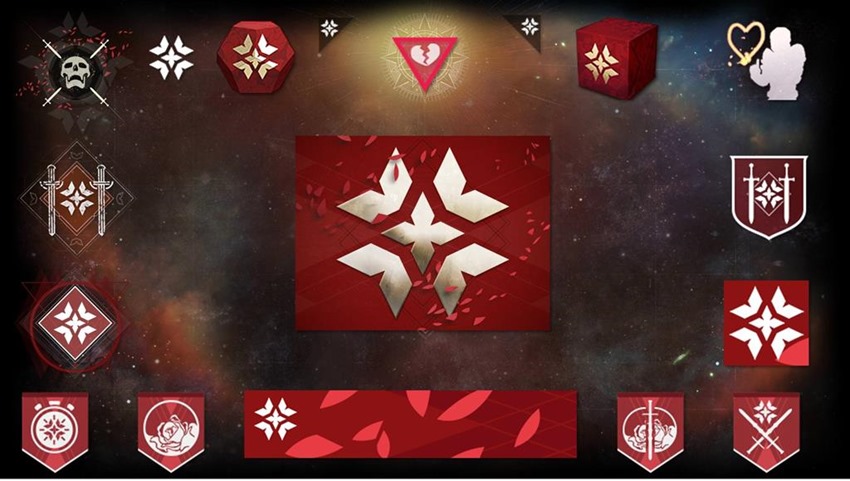 Love is in the air, in the whisper of a D.A.R.C.I., love is in the air in the thunder of the Hard Light. And I don't know if I'm just dreaming, don't know if I feel safe but it's something that I must believe in and it's there when you call out my name before shoving a Voidwalker Super down my reeeeeaaaaaar. Loooove is in the air!
February is around the corner and with it comes all of that romance stuff. WHAT IS LOVE? Baby don't hurt me, no more. Especially in Destiny 2's Crucible, as it'll soon be home to a game of doubles of the murderous romantic intent variety. Introduced way back in the original incarnation of the game, Destiny 2's celebration of gun-love will be back as a regular event, as Bungie community manager Chris "Cozmo23" Shannon revealed that a bit of data-mining from Redditor Ginsor was bang on the money:
The rumors are true. Crimson Days is coming back. It won't be the same as last time (2016). We will talk about how it is changing in the blog update on Thursday.
In its original debut, Crimson Days was a 2v2 event, where players danced a tango de la muerte against the opposition. According to the data-mining done, this year's version will likely include a quest that starts with Tess at the Eververse store, giving players a chance to earn some themed engrams.lord Shaxx will also have a presence with a quest of his own, because the dude is probably lonely.
As for the actual rewards? They're…enh well they're there at least. Much like the Dawning that just wrapped up, it looks like players will have a chance to grabbed themed weapons, Sparrows, ships and shaders. That being said, I'm a sucker for red shaders so I'll probably grind a bit so that I can give my armour some sweet flair.
Otherwise, if you were looking for something to do in Destiny 2 that wasn't a race against time to earn cosmetic fluff that constantly pushes you to visit the Microtransaction loot box plaza, then you're out of luck. Hopefully, Crimson Days won't be as tight-fisted with these engrams, much like the Dawning was with its terrible requirements for giving out gifts to the characters who populate the Last City.
Last Updated: January 10, 2018