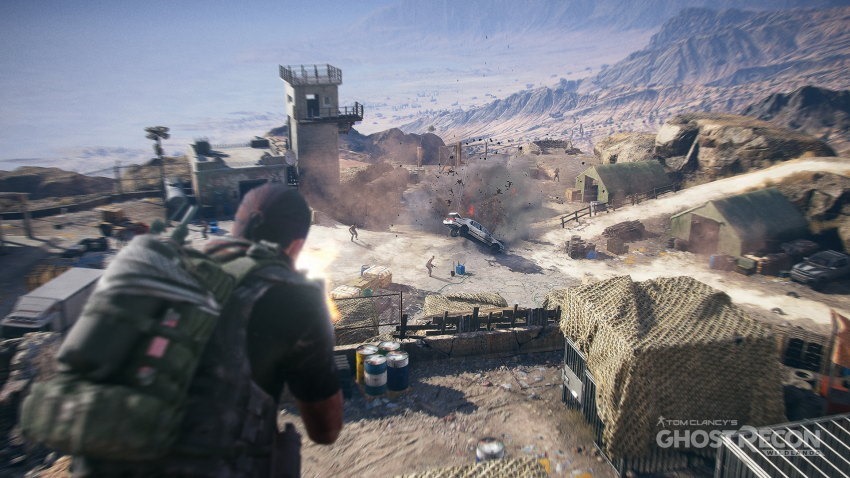 Last week, I was fortunate enough to be flown off to Paris to spend some time with Ubisoft's upcoming Tom Clancy title, Ghost Recon: Wildlands. If you'd like to read my impressions of it, you can do so right here.  Long story short, despite some minor concerns over how it might be enjoyed by different people, I liked my time with the game overall – Ubisoft have clearly put a lot of work into it.
I did wonder however, what inspired them to make Wildlands? What was their starting point? I sat down and had a chat with the Creative Director Eric Couzian to find out.
When we finished Ghost Recon: Future Soldier, we wanted to give a fresh and new experience, he said. "But we wanted to remain faithful to what is Ghost Recon. If you remember the first game, it was already big maps and freedom of choice. Now with the technology we have, it was quite obvious that if we put the new game into an open world, it would really show the progress of what is Ghost Recon
Ubisoft didn't make Wildlands an open world title just for the sake of it. Dropping linear restrictions and taking the series in this direction really was a logical step forward. I mean, the Ghosts themselves don't follow any specific rules, so why should players? It's in their hands to decide how they want to tackle Bolivia and the drug cartel that runs it.
With this total freedom of choice, we give the players the ability to play however they want. You can play stealth, you can play as a sniper, you can play as a driver, you can go all guns crazy, you can combine things if you want to be a cunning shooter… it really depends on how you want to play, and how you want to invest in the game. The progression system also allows you to go deeper into your play style."
Weapon customisation isn't the only variable players will have to be mindful of. Environments are just as important, and my short time with Wildlands was more than enough to sell me on Bolivia as the setting. Why did Ubisoft choose that particular country to base their game though?
Tom Clancy explores 'what if' situations and we wanted to use the context of Mexican drug cartels. The 'what if' is knowing that these Mexican drug cartels control all the drug lords to Europe and the US. What if they wanted to control the production too? Coca only grows in three countries, and Bolivia is one of them.
That's not the only reason Ubisoft were drawn to Bolivia. Another was its variety of vistas. They're all very different, and they all require a different approach from the Ghosts.
We didn't choose Bolivia just for narrative, but also because of the diversity of the landscape. For us it was very important because you have the salt deserts, the jungle, the forest, the high mountains, canyons, the swamps… I mean, it's so diverse that it allows us to bring game-changers into the game.

Whether it be for recon, or sniping, the line of sight really is the most important parameter. You can imagine the difference between the jungle, where you cannot see more than a metre away, and the salt desert which is so big, and completely flat and white. The approach you as a player will have, like what vehicle you use for example, will be different for each. When you play with friends in co-op, it also changes the way you will coordinate."
From my short experience, I do feel that Ubisoft were bang on the money in choosing Bolivia. I spent so much time in one measly region. The scary thing is that there are 21 in total in the final product! They're all going to feature their own unique challenges based on environment alone. They'll all also hopefully be different enough that players will feel compelled to keep playing the game. From what I've played, I'm confident that's the case.
Tom Clancy's Ghost Recon: Wildlands will be out in just a few short weeks, on March the 7th. It has a load of content packed into it, so if you're looking for a game to keep you nice and busy, and one that lets you play however you want for that matter, you might want to consider picking it up.
Last Updated: January 26, 2017