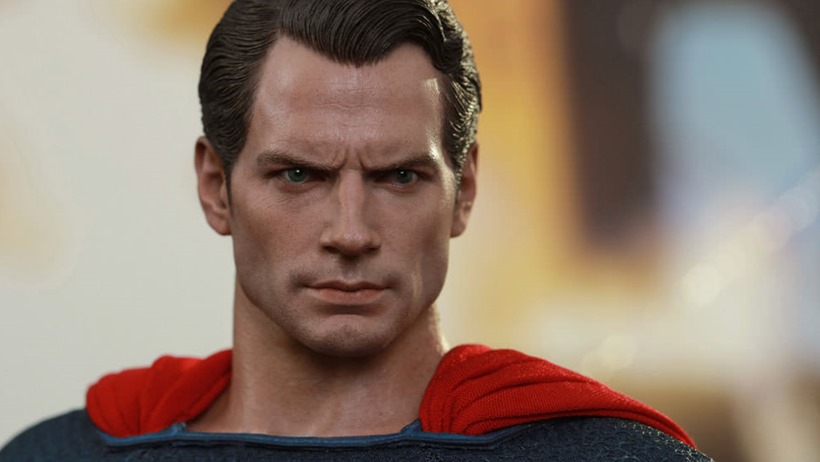 I could count the number of great Batman actors on one hands. Because there are precisely four of them. The number of great Superman actors however? Erm, that's a bit more difficult to do. You think of Superman, and you instantly think of Christopher Reeve, who wrote the book on wearing his red underwear on the wrong side of his pants.
Hell, I even think Dean Cain deserves some massive praise, as he made the most of some rubbish material in an age where Superman was more unpopular than a racist zebra. These days, our man of steel is one Henry Cavill. His Superman is a darker, more conflicted demi-god with the power to crush a city with a mistimed sneeze.
And even though it's not the kind of Superman that I prefer to see on the big screen, I still find his portrayal of the last son of Krypton interesting. And not just saying that because his action figure looks really, really angry with me:
WHAT'S IN THE BOX?
The Superman Sixth Scale Collectible Figure specially features:
An authentic and detailed likeness of Superman in the movie
Newly developed head sculpt featuring authentic likeness of Henry Cavill
Realistic facial features with detailed wrinkles and skin texture
Detailed hair sculpture
Approximately 31.5 cm tall
Newly sculpted muscular body with over 30 points of articulation
Movie-accurate body proportion
Eight (8) pieces of interchangeable palms including:
One (1) pair of fists
One (1) pair of relaxed palms
One (1) pair for open palms
One (1) pair of holding palms
Each head sculpt is specially hand-painted
Costume:
One (1) newly tailored Superman suit with embossed patterns and Superman logo on chest
One (1) pair of newly tailored red boots with embossed patterns
One (1) red cape made with new material
Accessory:
Specially designed Batman v Superman: Dawn of Justice themed figure stand with Superman nameplate and the movie logo
Exclusive Accessory:
One (1) LED light-up Kryptonite (white light, battery operated)
I'm liking this figure a lot more than his Batman counterpart, which resembles an angry small-wristed bodybuilder in his pyjamas. This Superman will be up, up and away sometime in May, with a retail price of $209.99 at Sideshow Collectibles.
Last Updated: January 15, 2016