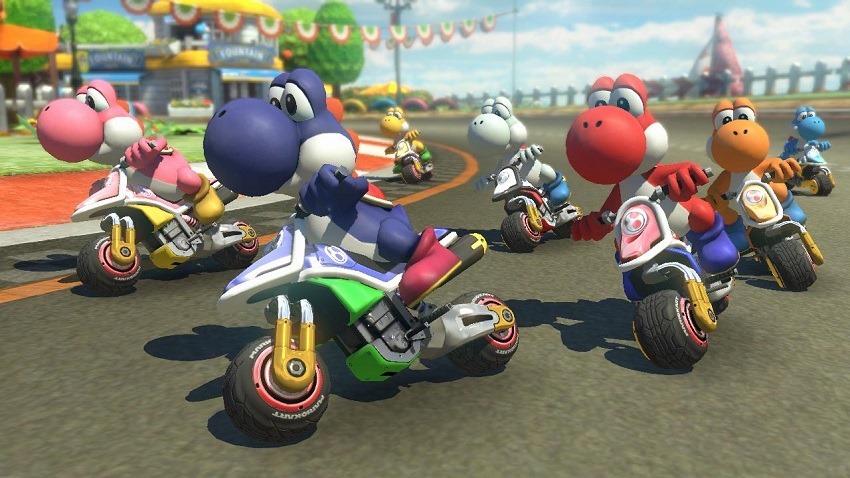 The worst place to be in a Mario Kart race is in the middle of the pack. Here the game starts getting lax with what weapons it gives you, and sooner rather than later you'll likely find yourself at the tail-end of the pack thanks to countless red shell attacks. Here Mario Kart gets even more generous, dishing out the most powerful items the game has to offer. It's a way to keep every position interesting, but Nintendo seems to think it isn't working as well as it could.
That's why Mario Kart 8 Deluxe on Nintendo Switch is getting a new patch to change that, amongst other things. The patch, which should have already downloaded on your Switch, will further increase the likelihood of players at the back getting some of the best items on offer in online races. That means more Bullet Bills, Stars, obnoxious Lightning and yes, Blue Shells. It's a systems-managed form of rubberbanding with human players, if that makes a little more sense.
In addition to that, the patch is making online races shorter by limiting the time races continue after the first player has finished, as well as fixing some issues surrounding defensive items being used for attack straight after a block. You can check out the full list of changes below:
Race rules and course name are now displayed on loading screens for online and wireless play, as well as Mario Kart TV.
Players who are behind in online matches will receive items geared toward catching up more frequently.
In online matches, no more than two Piranha Plants will be granted as items at the same time.
Controls are no longer unresponsive when the timer runs out when choosing a Mii racing suit for online matches.
When a player uses an item right after the Super Horn in online matches, that item will now remain available for other players.
Item wheel no longer spins continuously in online matches.
Online matches now end as intended 30 seconds after the first place racer finishes.
The Boomerang now returns to the first slot, if possible, after a player catches it.
Items shown in a player's item slots now display correctly when holding an item behind them.
No longer possible to use an item after it has been used to block an attack.
Communication errors no longer occur frequently while spectating or after spectating online matches.
Mario Kart 8 Deluxe is an engrossing racer that's at home on a portable platform like the Nintendo Switch. And while I might not like these changes personally, it's still a game you should absolutely own by now.
Last Updated: June 30, 2017