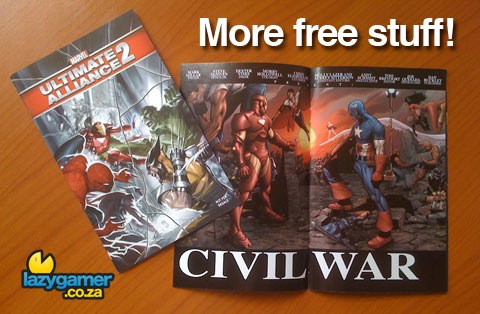 My desk seems to be getting a ton of airtime on this website lately.
So you may not have won the prize for the Marvel Ultimate Alliance 2 competition but we are in a really giving mood today and so we have broken out the randomizer-er-er machine again.
We happened to still have two more copies of the mini Marvel Ultimate Alliance Civil War comic books and have decided that two entries from the Marvel competition will get one sent to their doorsteps.
Winners after the break.
Okay, let's take a look.
If your name is:
Clinton (Hygiene Supplies) or Gordon Moodley
Then you have just won yourself a copy of the mini comic book, please email me at nick@lazygamer.co.za to claim your prize and send me the details of where I can send them to.
I am sending some stuff out today, so if you want it soon, get those fingers typing.
Last Updated: October 29, 2009