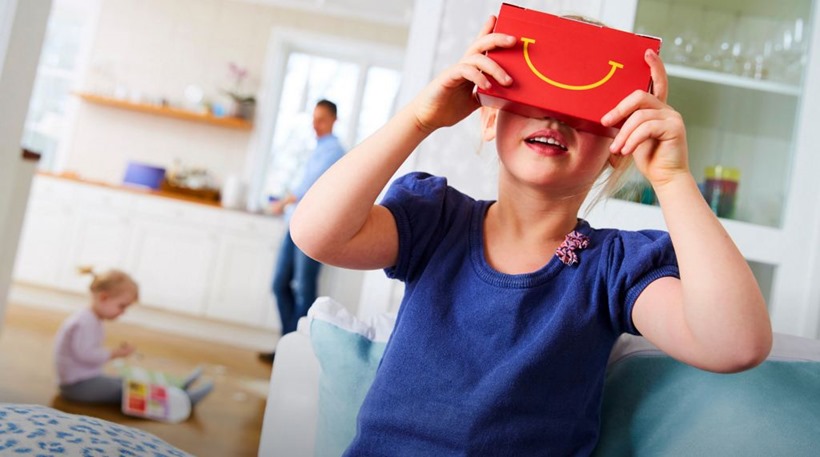 Just about everybody wants to get into the business of being virtually real these days, in a market that is quickly becoming crowded with all manner of new hardware. In addition to the Oculus Rift which kickstarted the VR momentum, there's the HTC Vive and Sony's Playstation VR which are all launching this year. Well now it's time to throw another hat into the ring.
A greasy, super-sized hat that may contain traces of the horse that didn't too well at the Durban July race. Yes folks, McDonalds is making their own virtual reality headset dubbed Happy Goggles. Which is essentially a Happy Meal box that takes several design "influences" from Google Cardboard. No really, this is happening and it is real. Here's a promo video as proof:
According to AdWeek, Happy Goggles will be hella exclusive for the initial launch. Fourteen branches in Sweden will sell around 3500 Happy Goggles, at a price of $4.10 each. Sweden is being used as the test market for the greasy VR, and if popular enough, it'll expand to other markets. Much like Google Cardboard, Happy Goggles will work by allowing you to fold your box up into a face-friendly shape (and probably developed by IKEA), slide a smartphone in and download an app that happens to be a basic skiing game.
Look, I like McDonalds as much as I like being diagnosed with diarrhea, something that usually goes hand in hand with a Not-So-Happy Meal. Still, projects like this would most likely pull in children by the truckloads, and it's a far cheaper alternative than dropping over R15 000 on the little buggers right now who are obsessed with the VR fad.
Plus all that leftover chip grease and the smell of horse meat should make the experience that much more immersive. Top that, Vive. Now to see if I can market Happy Beer Goggles.
Last Updated: March 1, 2016