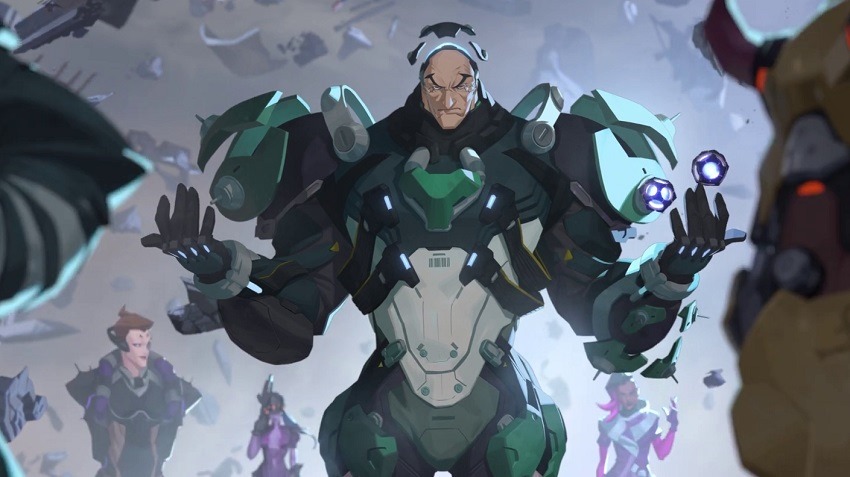 As the prophecy foretold and confirmed not only by the remnant shape of the bits of Tennis Biscuit chunks floating at the bottom of my tea mug but a brand new trailer as well, Overwatch is getting a new hero! Blizzard's been teasing the reveal of Hero number 31 for a couple of days now, and here he is in all his glory. Say hello to Sigma, whose mad science has turned him into a human weapon:
So what's the story, morning glory? Wee Sigma seemed to be an alright chap who was focused on his astrophysics research and judging by the size of him, some absolutely sick gains in gym brah. Which was all fine and dandy given that he was a bit of the weird side of social interactions. Then wouldn't you know it, a slight accident involving bleeding-edge black hole technology kind of exploded right in his face and drive his fragile mind over the edge.
On the plus side, it looks like Sigma now has some control over one of the fundamental building blocks of reality as his intro hinted at his newfound ability to harness gravity itself. Neat! You win some you lose some I guess and sacrificing your sanity for the ability to make stuff heavier or warp time itself sounds like equivalent exchange to me.
There's no word yet on what party tricks Sigma will bring to the table exactly, although one solid sounding theory over on Reddit by EnVyUs suggested that Sigma could make use of a grenade that will curve bullets and projectiles around him while he fights back with a beam weapon. Sweet. If the reveal of Sigma operates by the standard Overwatch rules, he'll most likely pop up within the game in a month from now, as did Baptiste not long after his cinematic debut.
Until then, Overwatch players can play around with the game's latest Summer Games event, while making good use of that new Role Queue system which may or may not be the best thing ever depending on who you ask.
Last Updated: July 23, 2019