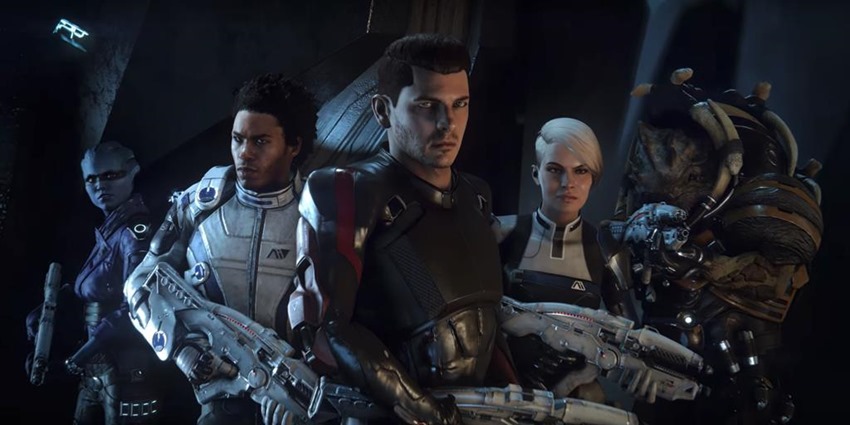 EA and Bioware were teasing some new Mass Effect: Andromeda content yesterday, releasing a pair of new trailers highlighting Pathfinder Ryder's and her ragtag squad as they search for a new home within the Andromeda galaxy. Which is kind of a bad idea when you think about it, because the Andromeda and Milky Way galaxies are still going to collide in a mere four billion years give or take.
It's like buying a house right next to the Leaning Tower of Pisa. Anyway, first trailer right here:
If you can't see the trailer above, the gist of it is that Ryder and her pals will be staring down some big threats across space. Particularly that Kett Archon dude, who doesn't look too happy to be dealing with visitors from another galaxy. I wonder if he'll build a wall around the Pathfinder. There's another video that EA released shortly afterwards, detailing the Pathfinder squad, which you can check out right over…
No not here.
Keep looking.
HERE!
The squad so far includes N7 soldier scientist Alec Ryder, Crisis Response specialist Liam and the Ryder twins are some of the members of the Human Pathfinder team, while other races from previous Mass Effect games are also scouring the Andromeda galaxy looking for the so-called golden worlds to inhabit. That, and bringing a Krogan to any fight is still one hell of an insurance policy.
Mass Effect: Andromeda drops out of orbit on March 21 in the US and March 23 in Europe, with early access via the EA Vault coming a week before.
Last Updated: January 27, 2017