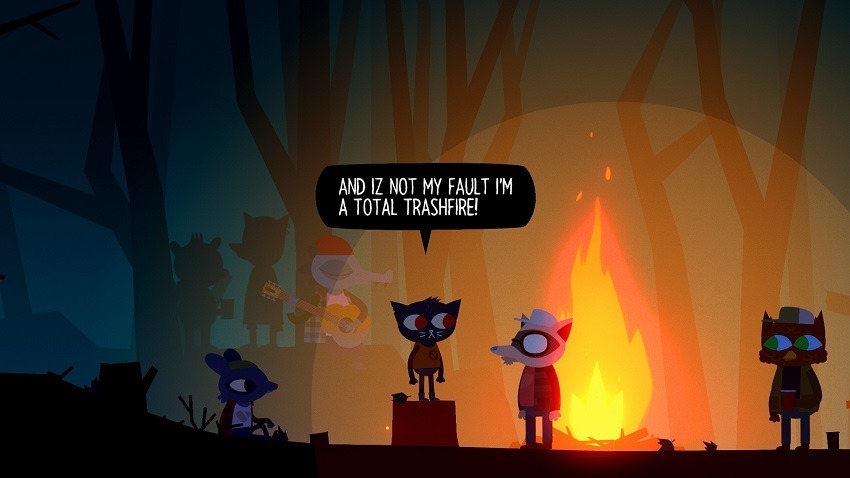 Night in the Woods might have crept into your life through its charming visuals and the fact that you play as a cat in a town where cats keep other cats as pets. It's all so very confusing. Nevertheless, Night in the Woods is far more than its cute, sometimes creepy aesthetic leads you to believe. It's a coming of age story about friends, depression and just life in general. One which manages to be earnest with its message rather than preaching. And if you've been holding out for it on Nintendo Switch, that wait is nearly over.
After accidentally stating that Night in the Woods would launch this week on Switch, developers Infinite Fall corrected the online listing with the true date: February 1st. That means just two weeks wait to hook up with Gregg and his sick dance moves on the go, as Night in the Woods brings its A-game to Nintendo's platform. This is the definitive version of the game, including the Weird Autumn additional content. New mini-games, encounters, dialogue and sequences are on offer here, which makes for an extra special first playthrough.
And all along to that hauntingly great soundtrack, which you can sample in bits below.
Night in the Woods has been on my personal radar ever since it launched, and one former sentient mop writer here (that's the not-so-late Matthew Figueira) can't shut up about it. It's got all the hallmarks of a great adventure game, but with a narrative that feels personal and special in a way that others often come off as goofy. It was certainly part of some of the best games of 2017, so be sure not to miss it now that you really don't have an excuse to.
Last Updated: January 17, 2018