As the weekend fast approaches, the Mettlestate crew are preparing themselves for the inaugural Samsung Galaxy CS:GO Championship where the prize pool is set at a staggering R1 million. After two qualifier rounds, the top eight teams have been decided, and there are some newcomers in there who managed to take down some big names.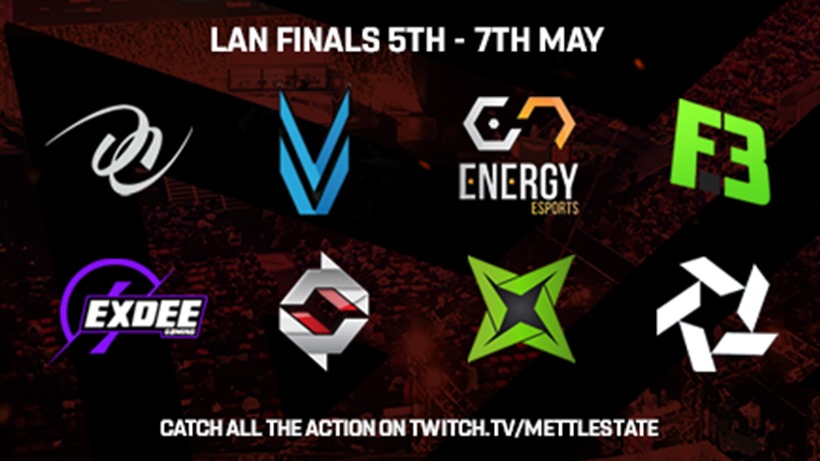 These power rankings are just predictions, in a sense, and are not necessarily the outcome of the tournament. We will look at the teams' performance throughout the qualifier and other competitions which ran in accordance to Mettlestate (Like ESEA and ESL Qualifiers).
1. Bravado Gaming
Groups (5-0) | Playoffs (2-0) | WR: 100%
Bravado Gaming lost the Mettlestate show match back in March against a new and unpredictable Energy Esports team. This left hope in the minds of some that Bravado's dominant performance from 2016 wont be repeated this year. Unfortunately, we were wrong, and come the first Mega8 tournament Bravado rummaged their way through the competition to take a clean sweep of the tournament.
Bravado Gaming enters the tournament as clear favourites, despite this being their first LAN with the new roster. With the new team gelling fast, they retain what is arguably the strongest lineup of CS:GO players in South Africa.
2. Energy Esports
Groups (4-1) | Playoffs (2-0)| WR: 83%
Energy Esports resurfaced this year after taking on the old CarboN Esports lineup. CarboN was hot on the heels of Bravado over 2016 and it seems Energy Esports is following the same pattern with the first few tournament of 2017. Energy's clearest issue throughout the qualifiers and Mega8 Autumn cup was a lack of leadership as the role seems absent from some of their more important games. A LAN environment will either make or break the team in this regard as the stakes are even higher and the pressure is on.
Energy can match Bravado in skill, there's no doubt about that, but in the end, it comes down to composure and the age old "big match temperament" which Energy will need to rein in this weekend.
3. Damage Control
Groups (4-1) | Playoffs (2-0) | WR: 83%
Damage Control will come in as no surprise at third. The team filled with Counter-Strike veterans consistently put up admirable performances at LANs. They've seemed almost content with their performance as of late and placing in the top three has been almost expected from the team. However, the stakes are a bit higher for Mettlestate and this could unleash a few curve balls for teams.
Because DC are such a strong and composed LAN team, they're up here in third in place of Flipsid3 Tactics, who I believe have what it takes to cause some major upsets this weekend.
4. Flipsid3 Tactics
Groups (2-3) | Playoffs (2-0) | WR: 50%
F3 have had their fair share of ups and downs with their new roster. They picked up Ashton "Golz" Muller earlier in the year and since then they've been struggling to gel and put up an admirable result. At Mega8 they managed a fourth place finish but could have taken it higher had they not been plagued with latency issues. That's, unfortunately, the basis of this ranking, and why it might be higher come next tournament. Flipside3 is a team who are consistently held back by poor internet for a number of their players.  On LAN, this doesn't count and Flipsid3 can be a scary team.
Flipsid3, in my opinion at least, are the Dark Horse of this tournament in that they can cause an upset at any time.  They've beaten top teams before, and have come close in recent tournaments.
5. xTc Gaming
Groups (4-1) | Playoffs (2-0)| WR: 83%
xTc Gaming has hit some hard times lately after failing to qualify for the Mega8 Autumn Cup. They still remain one of the stronger teams in the tournament, but it all depends on the opening matches. The team is composed of some strong individual skill, but their teamwork seems to waver a bit when facing stronger opponents. With so much on the line, xTc are going to have to step it up if they wish to push through as their first game is against Exdee Gaming, who are equally matched.
6. Exdee Gaming
Groups (4-1) | Playoffs (1-0)| WR: 83%
Exdee Gaming is a new team of old players. They've put up a few good results throughout the group stage, and their playoff spot was almost taken away after losing to Armor Legion who were found to have a cheating player. Exdee retains some of the stronger LAN players on their roster, which we've yet to see. They're either going to be a strong team going forward in the playoffs or be sent home after round one of the lower bracket.
What they do have is composure and players who have been competing for many, many years. For this reason, I think Exdee will have a good tournament, but it's going to take a lot for them to push the rankings.
7. Pulse Gaming
Groups (3-2) | Playoffs (2-0) | WR: 66%
Pulse Gaming is definitely a team worth watching this year. They put up an amazing performance in their final game of the second qualifier where they absolutely decimated a strong PRO Gaming lineup 2-0. Their team consists of some familiar names in CS:GO, a group of players who have yet to be tested on LAN. Tactically I think they're going to struggle against Energy Esports in their opening match, and for that reason, I think their aim won't carry them all the way. It is a best of one, however, and Energy is known to tilt pretty easily these days.
I don't doubt that Pulse is going to slowly climb the rankings this year, but for this tournament, I think their opening matches are going to be tough.
8. Ventus Pro
Groups (2-3) | Playoffs (2-1) | WR: 50%
Ventus Pro upset the balance by taking down White Rabbit Gaming in the playoffs. We became used to seeing the regular teams in every competition, but Ventus snuck one on us taking down WRG. Ventus Pro had a rough group stage too, being placed alongside Bravado Gaming who they will face in round one of the winner bracket. The trump card for Ventus is that this will be the last tournament for SchizzY, a player who has caused quite a buzz throughout the tournament. I don't think Ventus are going to beat Bravado Gaming, and for that reason, I think it's going to be a rough tournament for them.
Like esports?
Check out esports central
Last Updated: May 3, 2017