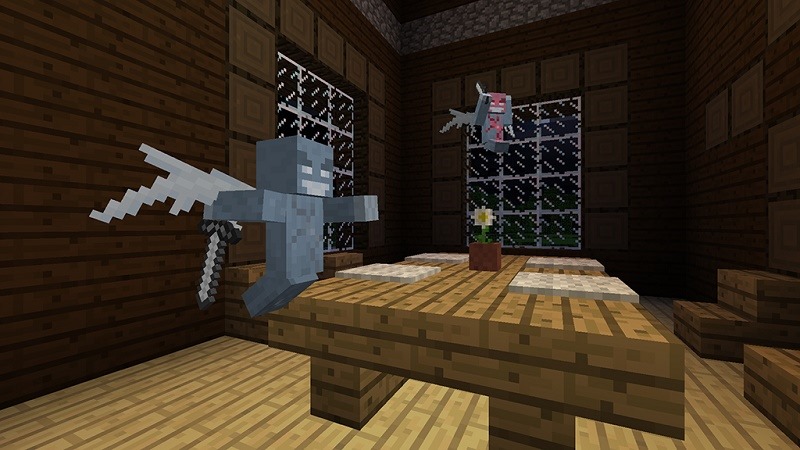 Is Minecraft still a thing? It's been many, many years since I last dabbled with the tree-punching simulator myself to be honest, but I think I'm definitely part of a minority. Millions continue to play the game today, which is probably why it keeps on receiving slews of new content across all platforms.
Speaking of which, lots of new goodies were announced for Minecraft at this past weekend's Minecon. Mojang have been nice and busy it seems, because they've got llamas for PC/Mac, a Chinese mythology mash-up pack for console, and more on the way!
First up, PC/Mac. This edition of Minecraft is getting update 1.11 in the near future. Here's a sneak peek of what it'll contain…
The update introduces the Illagers – a new bunch of mobs who inhabit Woodland Mansions. They're a mean lot who attack intruders with deadly magic and summon mischievous flying imps called Vexes.

True to the update's name, you can now buy maps from village Cartographers which will lead you to Ocean Monuments and Woodland Mansions. There be treasure!

You will also be able to manage your bloated inventory with Shulker Boxes – special chests that retain their contents even when knocked down.

And let's not forget the fluffiest of 1.11's additions: llamas! They're basically adorable mobile chests. Stick a carpet on them to make 'em snazzy. They'll even form caravans as you lead them across the land and attack hostile mobs with gobs of spit. Charming!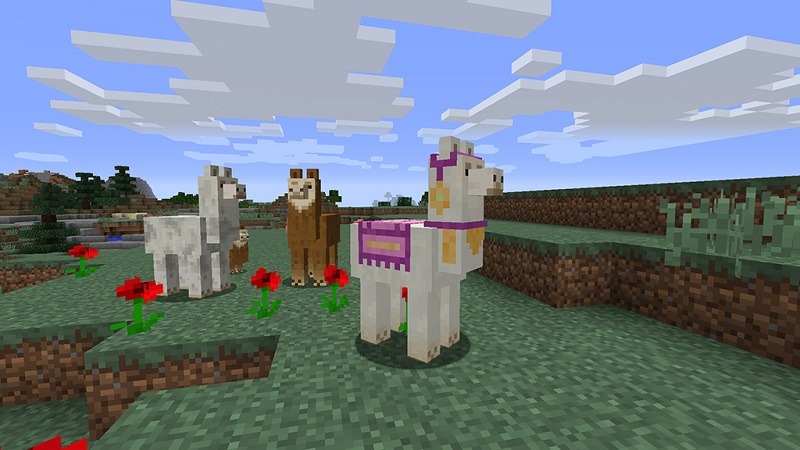 Owners of a console version of Minecraft unfortunately, won't be getting all of the above (at least not for a little while). They still have a lot to look forward to though. Here's what's coming in a future update:
Polar bears and their adorable offspring are to be found wandering frozen biomes.
Banners! Spruce the place up with your personalised drapery.
New terrain generation: Igloos now appear in Arctic biomes, and gargantuan fossils lie beneath the earth awaiting your discovery.
Beetroots! You can farm them and turn them into a restorative soup. Delish!
Other new blocks: End Bricks, Grass Path, Frosted Ice, Magma, Nether Wart Block, Red Nether Brick and Bone Block.
That's not all that's coming to consoles – there's a bit of DLC on the way too. It'll cost $4.99, and launch alongside the above console patch on October the 4th:
There are loads of good things on their way to Console Edition this fall. The Chinese Mythology Mash-Up pack arrives, bringing with it an exquisitely crafted world inspired by the myths of the far East: there are ancient cities to explore, gargantuan sculptures to gawp at and cherry blossom aplenty. Beware, though – there's a reason they call this the land of dragons! There are also 41 new skins and 13 themed music tracks for you to use in your own worlds. Plus: it comes with a special map for the Battle Mini Game we released in June!
I lost interest in Minecraft way back when because it became a little too complicated for my liking. I spent more time online reading up how to do stuff than I did actually playing the game. All this new content, while exciting, makes me want to play it even less.
If you on the other hand simply adore all the blocky goodness, well, you've got a lot to look forward to. CAAAAAAAAARL!
Last Updated: September 26, 2016