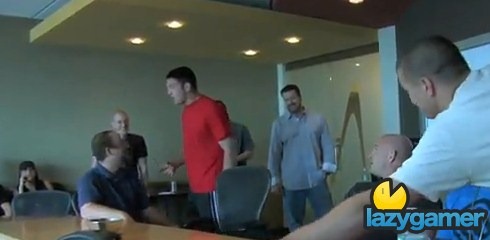 We as gamers hiding behind our massive HDTV's are constantly calling for more realism and accuracy in games. But have you ever stopped to consider what it takes to setup that realism?
Well take a look an EA developer explaining to the MMA fighters about the game and in particular why Mayhem Mill has such a low fighter skill rating.
The developer understandably looks like he is going to pass out but then it all ends just as quickly as it started up.
I personally don't think he really was kidding and it's just lucky that the haze parted for a few seconds and he realised what he was about to do, EA were nearly on the lookout for a new senior developer.
Oh and isn't that the most awesome boardroom table on the planet?
Last Updated: October 1, 2009