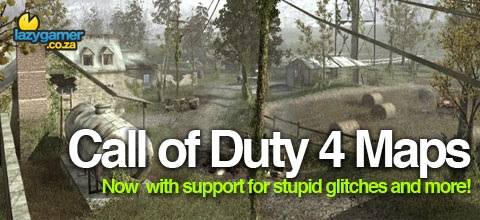 Most of you know that I'm not the biggest fan of Modern Warfare 2's multiplayer anymore, thanks mostly to the constant barrage of glitches, hacks and all around cheap tactics being used all day, everyday.
Details on the exciting new Stimulus map pack have finally been released and I honestly can't say that it has done anything to make me want to pick the game up and play it again, thanks mostly to a couple of details.
Hit the jump for all the info.
The map pack will consist of 5 new levels, with only 3 of them new while and the next 2 are maps from COD4: MW that everyone has only already played a gajillion times already.
Here's the full list:
New Maps
Bailout – A multi-level apartment complex
Storm – an open industrial park littered with heavy machinery
Salvage – A snowy junkyard fortified by stacked debris and crushed cars
Old Maps
Crash – War-torn urban environment
Overgrown – A massive dry creek bed
So what can you expect to pay for three new maps and two old ones? The map pack released for Call of Duty 4: Modern Warfare was priced at 800 MS points, but because this is Modern Warfare 2, the biggest selling game of like, ever, Activision has seen fit to charge us a ridiculous amount of 1200 MS points on XBL or around R150 on PSN.
The download will be 329MB and If you love Modern Warfare 2 with all your heart, and really want new (and old) maps to play on, then by all means, go out and get it when it releases on March 30th.
I personally have much better things to spend my money on if I must be perfectly honest, so this map pack isn't getting any of my dough, especially not with that price tag.
Xbox Live Marketplace via Destructoid
Last Updated: March 15, 2010