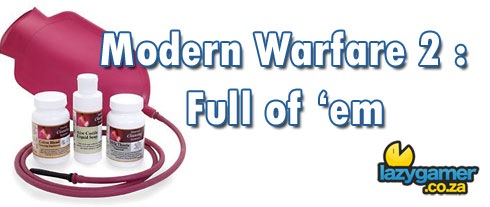 "The biggest benefit of using IWnet by far is the fact that you don't have to worry about joining a server full of aim-bots, wallhacks, or cheaters." That was something Infinity Ward said to try and quell the PC gamer nerdrage over Modern Warfare 2's lack of dedicated server support.
1 day.
That's how long it took for the sentence to be negated. It appears that despite Infinity Ward's best efforts, cheating bastards are already ruining the fun.
If you look at the video below, you'll notice that all player positions – both friendly and enemy – are highlighted, the guns lack significant recoil, and there seems to be an Aim-bot at work. Thankfully, because the game runs on dedicated servers, it would be easy for a server admin to just ban cheaters. Oh wait..It doesn't – meaning there's not a damned thing you can do to prevent being on a server full of aim-bots, wallhacks and cheaters.
Even worse is that the site that's offering the cheats will give them to you – for a fee.
Not cool, douchebags. Not cool at all.
Last Updated: November 12, 2009