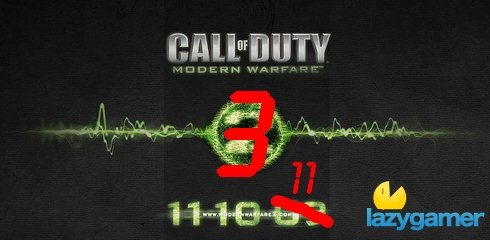 This is one of those baseless rumours that is just so insane it may even be true.
Apparently an anonymous source has been speaking to VG247 and has confirmed that Infinity Ward will not be developing Modern Warfare 3 as they will be working on a new super secret title that will blow us away.
Modern Warfare 3 which is to be released in 2011 will be developed by a third developer who may or may not be Sledgehammer games which is a brand new studio being created from the remains of Visceral games.
And it is exactly at this point that I fail to continue to believe this story. I just cannot see Infinity Ward giving away their biggest pay check and then Activision giving that very same golden hen to an unknown, untested studio.
But then again you never know with Activision and possibly Infinity Ward were starting to ask for to much money and the new guys have waltzed in with an offer Bobby just couldn't refuse?
We're going to slap a big rumour tag on this one now but I will keep an eye out for more news and let you know if it comes up.
In other Call of Duty news it was reported yesterday that Treyarch may be planning to bring this years COD title to Vietnam. Which may or may not be totally awesome depending on how well they pull it off.
Source: VG247
Last Updated: January 8, 2010