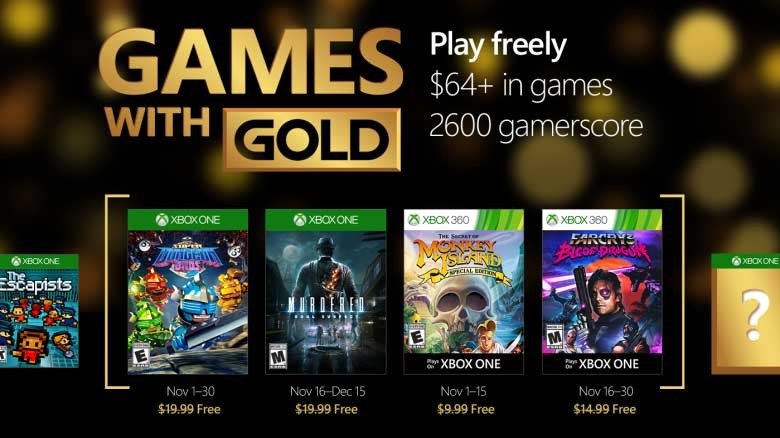 Console subscriptions! They aren't cheap, but at least they guarantee that the server lights will remain on when you're hopelessly addicted to a game that only tens of other people are playing. But that's still not enough, as gamers want more digital value for their buck when they check their bank balance every month. And that's not exactly an unreasonable request.
To make a subscription to Xbox Live that much more tempting, Microsoft usually throws a few free games into the mix every month. Games that aren't tied to your Gold subscription are available for a limited time provided that you've paid up. Value is subjective, but at least there's something being given to the masses every month.
So here's what you'll be getting in November on Xbox One:
Super Dungeon Bros. – November
Murdered: Soul Suspect – November 16-December 15
And on Xbox 360:
Far Cry: Blood Dragon – November 16-30
The Secret of Monkey Island: Special Edition – November 1-15
Not bad. While I can't speak for 75% of those games, I can confirm that Far Cry: Blood Dragon is well worth a grab. A self-aware bloated parody of the 1980s and anything that used neon colours, Far Cry: Blood Dragon is balls to the wall fun. Plus it has at least one instance where you ride a sentient Blood Dragon that has been outfitted with mother-f***in' laser gatling guns. Awesome stuff.
Last Updated: October 24, 2016