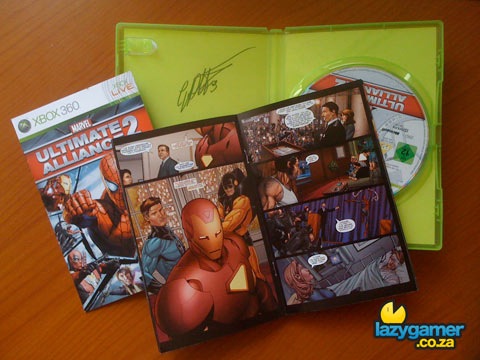 Welcome back to the week everybody, we know you all love working so much. Let's try and ease some of that pain.
Did you think that all the competitions were over now that Lagz is back in his rightful place? You were very mistaken, we have some cool gear and things to give away this week so stay tuned.
I just snapped that image above because thanks to Megarom, we have a copy of Marvel Ultimate Alliance 2, together with a mini Civil War comic book and to top it all off, it's signed by the comic cover artist Gabriele Dell'Otto.
Details on how to win it, after the break.
Ok so do you want to win this rather special copy of Marvel Ultimate Alliance 2? Well entering is pretty easy.
All you have to do is email us with the name of one of the Marvel characters that appear in Marvel Ultimate Alliance 2. Simple, right?
Multiple entries are allowed from each of you, as long as you don't send through the same character name twice.
all entries can be sent to comps@lazygamer.co.za, the competition closes at 10pm on Wednesday 28 October so get cracking on those entries. The winner will be announced on Thursday morning.
Please remember all of the usual stuff, as in, make sure you are someone who lives in the SADC and also, we don't accept entries from residents of the South Africa's on Mars or Jupiter, those countries are all just cheap knock-offs anyway. Earth only please.
Last Updated: October 26, 2009