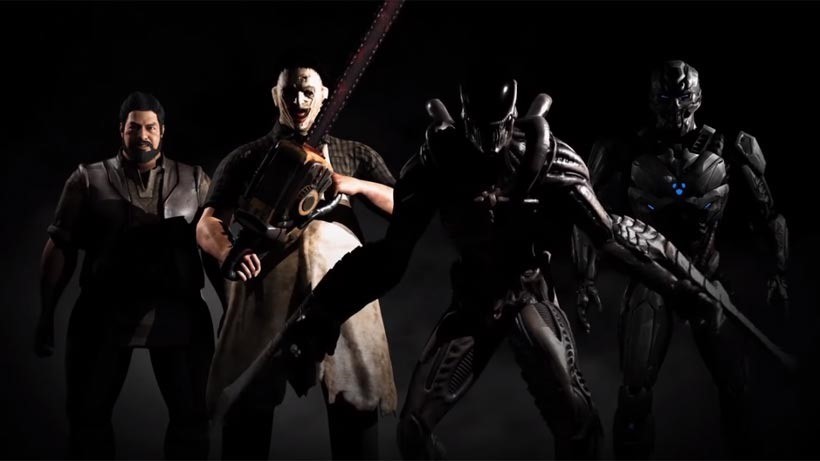 Looks like Mortal Kombat X is going to get a little bit bloodier next year. We've known that a second pack of fighters were on the way for a while now, to complement the initial release of DLC characters such as Jason Voorhees, Tremor, Predator and Tanya. Thanks to a proper reveal at the Game Awards (after an unceremonius pre-show leak), we've just got our first look at the gruesome quartet who'll be gracing Mortal Kombat X in the second season.
So prepare yourselves, for a good ol' fashioned Texas Chainsaw massacre in this video trailer:
If you can't see the video above, here's a quick list of who's who in the Mortal Kombat X zoo:
Bo Rai Cho
Leatherface
Xenomorph
Triborg
That's an interesting selection right there. Leatherface looks magnificently hilarious, as you'd expect any product of incest with a fetish for motorised tree-felling equipment to be. Triborg looks like the Tony Stark version of Shang Tsung, a cyborg who uses the abilities of Sektor,Cyrax and Smoke. The Xenomorph present here is one that has taken on the qualities of the Tarkatan host that it has burst forth from and Bo Rai Cho makes his first playable appearance since Mortal Kombat Armageddon.
An interesting bunch of characters for season 2 then. I'm particularly keen to see how the Xenomorph handles with its three combat variant styles, being a pseudo-Baraka and all that. There's no exact date on when the latest Mortal Kombat X characters will drop, but it'll most likely be at regular periods throughout 2016.
At least now, I can finally have the dream Alien Vs. Predator match that I've been aching for ever since I saw AVP: Requiem.
Last Updated: December 4, 2015