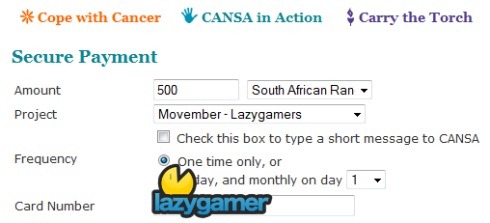 So did you remember to shave on Sunday? Are you growing that substantial Mo already with women already flocking to your new found awesomeness? No… well that's okay you can still join in the goodness that is Movember.
We have two absolutely awesome Rockstar hampers, sponsored by Megarom, to give away this month, one is going to the man who grows the most awesome Mo around and the other.. well that's going to be raffled off to one really lucky entrant.
To enter this competition you need to donate R10 to CANSA to help in finding a cure and treating male prostate cancer. Obviously as always you can enter as many times as you like and each R10 will gain an entry into the draw.
For a valid entry to count you need to head on over here select the official Movember – Lazygamers dropdown option and fill in the details.
No credit card? No problem, they are happy to accept take the money directly out of your savings or cheque account, just fill in some details and your done.
Then email me ([email protected]) your stub proving you donated to the correct charity like the one below.
So in my case as we can see above I donated R500 and I would have then received 50 entries into the draw. I don't expect you to donate that much and any amount is honestly really appreciated.
Let's try drop the perception that gamers are cheap, we all regularly pay over R600 for games and can easily afford R20 for a good cause.
If you have any questions please feel free to drop me a line or post them in the comments, I am happy to clarify anything that isn't entirely sure.
Oh and if you have a company and want some publicity for your generosity please feel free to mention that and I will make sure it gets a mention as well.
PS: Isn't it totally awesome that we have our own dropdown on the donation page… Thanks to Megarom for organising that one… and all the prizes… we love you guys
So you want to donate and missed the link above? Well then just click this awesome sentence
Last Updated: November 4, 2009