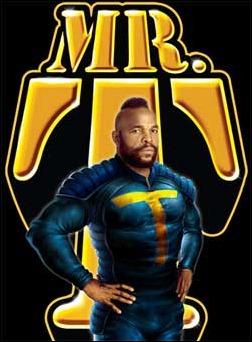 Zootfly have announced that they've secured the rights to develop games based on Mohawk Media's Mr. T Graphic novels. I can't say I knew something as ludicrously awesome as Mr T comic books even existed, but now that I do there's news of an impending game! Chuck Norris be damned!
According to Zootfly, we can expect the game to feature "knuckle-whitening action-adventure, furious brawler combat, gravity-defying platforming, and environmental puzzles." Yay! Environmental puzzles, my favourite.
Admittedly, the basic plot sounds incredible – The first game has our favourite Bad-Ass taking "on Nazis and their gigantic machines in the varied universe of South American rain forests, lost ancient cities, industrial complexes and contemporary military installations"
If you're currently overwhelmed by the astounding awesomeness – sit the hell back down, because there's more: Helping our bad-attitude hero will be none other than legendary genius Will Wright, creator of The Sims and Spore. Together, they'll rid the world of the evil Nazis and their mechanised robots of doom. I wish I'd made this up – but if I had my head would have imploded; It's not a suitable container for things this awesome.
Expect Mr. T to make an appearance on your PC, Playstation 3, Xbox 360 and Wii sometime in the near future.
Source : Eurogamer
Last Updated: April 29, 2009